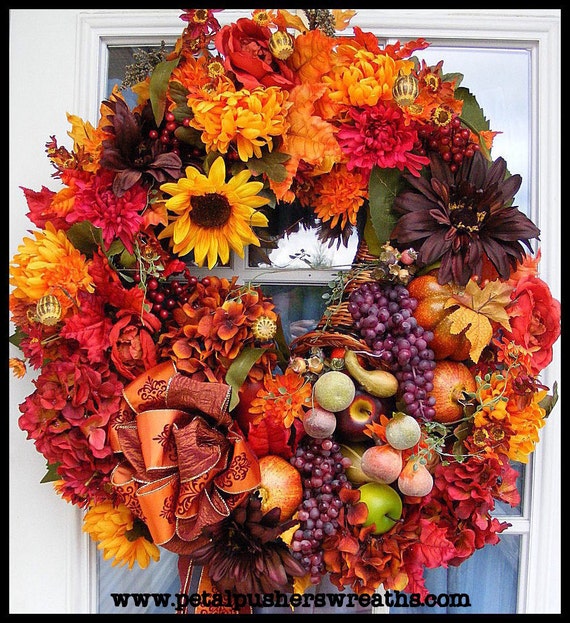 Fall Wreath, Autumn Wreath, Harvest Wreath, Thanksgiving Wreath, CHRISTMAS in JULY SALE!, Petal Pusher's Wreaths, Free United States Ship!
By Petal Pusher's Designs
Product Info
IT'S OUR ANNUAL "CHRISTMAS IN JULY" SALE! ALL FALL AND CHRISTMAS ARE ON SALE NOW! **PLEASE NOTE, ANY ORDERS PLACED FOR FALL WREATHS WILL NOT BEGIN TO SHIP OUT UNTIL SEPT 1, AND WILL SHIP IN THE ORDER THAT YOU PLACE YOUR ORDER. THANKS!**
"Abundant Blessings" Fall Wreath REG. PRICE: $229.95, NOW $179.95!!
Beautifully handcrafted fall wreath filled with gorgeous artificial flowers, decadent fruit, berries, autumn leaves, and designer ribbon. Decorative wreath measures approx: 28". FREE US SHIPPING on all fall wreaths! **This item is handcrafted, made-to-order and usually ships within 2-3 weeks.
**Our decorative wreaths are excellent for front door use, but a slight overhang above the wreath is ideal in order to protect the wreath from weather damage. Please allow, in most cases, approx: 2-4 weeks before completion of decorative wreaths. Please keep in mind that each wreath is handcrafted by our professional designers, so production times may vary. If you are interested in expediting your order, please contact customer service at info@petalpusherswreaths.com. Petal Pusher's reserves the right to substitute materials as deemed necessary by designers. Materials depicted are subject to availability.

If you would like a custom Petal Pusher's wreath or mailbox swag, please contact us at 205-217-1429 or email us at info@petalpusherswreaths.com