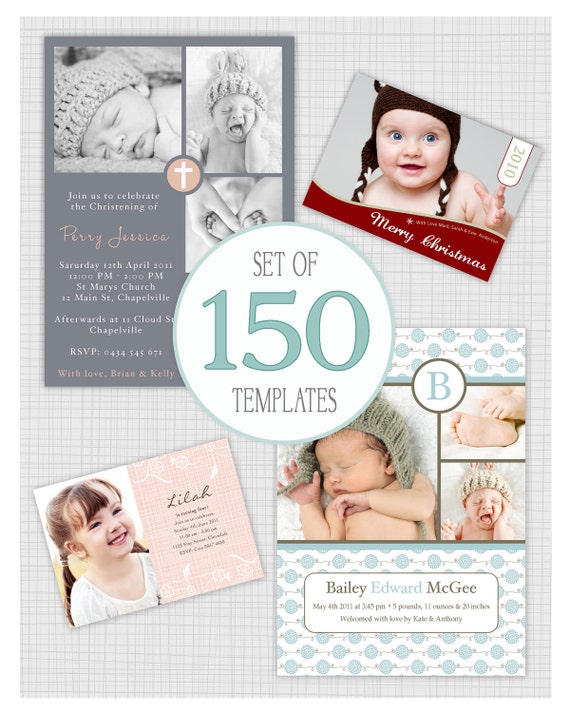 150 Photo Card Templates. Bulk Pack 4. Includes Birth Announcements, Christening and Birthday Invitations, Christmas Cards.
By Tambo Creations
Product Info
BULK PACK 4 (Contains all different designs to bulk pack 1,2 &3)
WHAT YOU GET IN THIS PACKAGE:
This Tambo Creations pack is a bulk set of 150 single sided photo card templates in a huge range of designs. Each design comes in 2 colour options. Each template is a customisable, personalised, PSD file. All you need to do is choose a template, insert your photo, edit the text and your done! Printing your invitations is just as easy – print at home or take to a photo booth or professional printer. You will be delighted with the results and more delighted with the time and money you have saved!
This package includes:
28 Adult birthday Invitations
30 Children's birthday invitations
30 Christening & Naming Day Invitations
32 Birth announcement cards
30 Christmas cards (includes the 10 designs from my 2010 mini christmas set)
TEMPLATE DETAILS:
Each template is a High Resolution 300 dpi Photoshop PSD file. The templates come in 5X7 inch size. The templates are customisable and can have their text, fonts, some colours, size and images changed. All birthday invitations can be edited to read any age.
Fonts – Most fonts used are standard, however as I do not own the rights to the special fonts I use, I cannot redistribute. Therefore, a special font list is included and you must download these fonts yourself from a website as per instructions on this list. All fonts are free.
REQUIREMENTS:
Compatible with both Mac and Windows. To use these templates you need an art editing program that supports PSD files, such as Photoshop, Photoshop elements or Paint shop pro. If you are unsure if your program is compatible, contact me with your email address and I can send you a sample you can test with your program.
Knowledge – a basic knowledge of your art editing software is required to use these templates. Brief instructions are included as a word doc.
USE:
Purchasing these templates gives you the right to use the designs for home/personal use only! You may not redistribute or recreate my designs in any way, shape or form.
Looking for the commercial use pack? Find it here: http://www.etsy.com/listing/67541782/commercial-pack-of-150-photo-templates
POSTAGE
No need to wait for slow postage. Receive your templates quickly and easily with digital delivery! A download link will be emailed to you within 1-36 hours after purchase.
THANK YOU! X