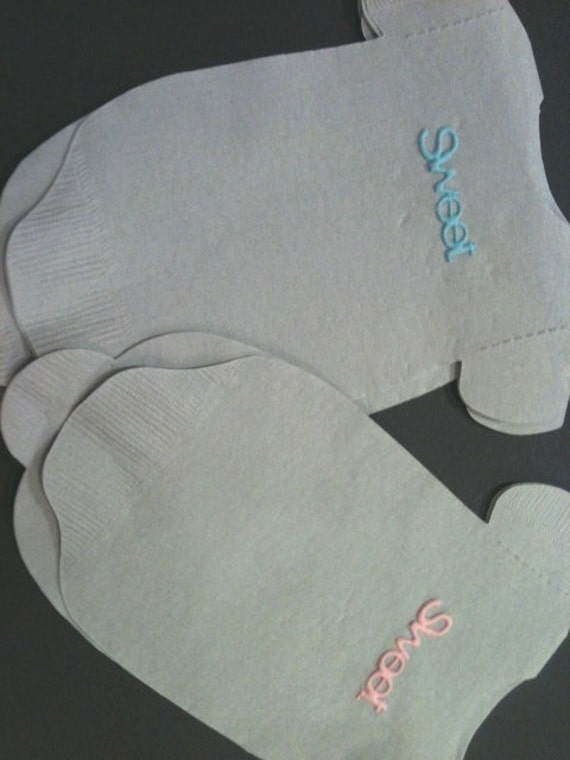 30 Baby shower snap-shirt shaped napkins in grey with pink or blue embroidered word Baby or Sweet. Twins too.
By wrapsidazy
Product Info
These 3 ply napkins are absolutely adorable and sure to be a hit at your baby shower! Each one is adorned with an embroidered word SWEET or BABY. 3-ply is the thickest napkin you can buy!
Use these as napkins, of course, AND hang several over a ribbon and you have an instant banner! No pegs or tape or clothes pins needed! See last photo to see what my napkins look like hung up as a banner. Choose pink or blue SWEET or pink or blue BABY - or a combo (Twins!?).
You can even take the word off the napkin and re-use for scrap booking, cards, etc. - i.e. the word is not stitched onto the paper napkin.
This listing is for a set of 30 napkins.
Each napkin is 6" long and 3 1/2" across, is triple ply and opens up to twice this size. (In between a luncheon sized and a beverage sized napkin.)
Non-smoker in a non-smoking home and studio.
Actual emails from satisfied customers:
"The napkins couldn't have been more precious! I hung [some] along the edge of the table over ribbon and I it was the mom-to-be's favorite thing!"
"I couldn't even try to describe how cute these are,,, soooo pleased. Tk u:) "
"I ran to show my neighbor how cute they are! I can't wait to show them off at my daughter's shower!"
Featured in a Treasury List, "Best Baby Shower Ever!" http://www.etsy.com/treasury/OTIyODIwNXw2NTkyODEzOTI/best-baby-shower-ever