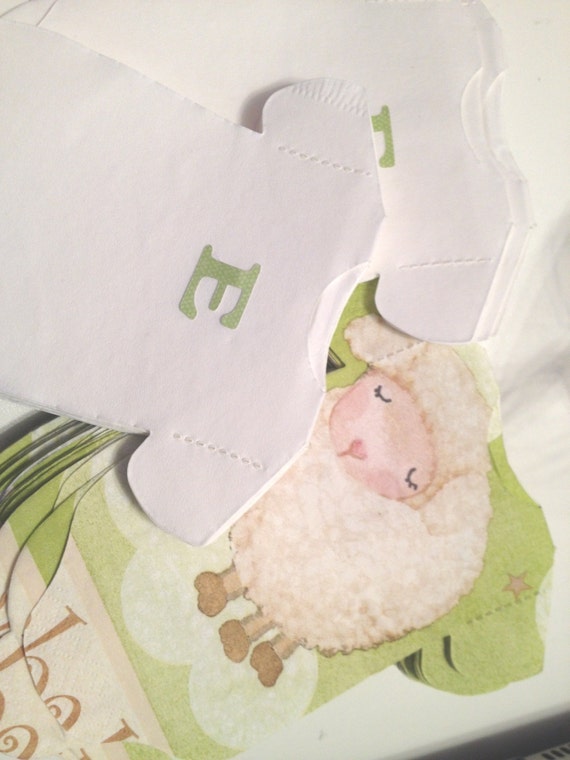 Set of 30 Baby shower "clothing" napkins and decoration with baby sheep.
By wrapsidazy
Product Info
These baby shower napkins are absolutely adorable and sure to be a hit at your baby shower! Each one is adorned with a cute baby lamb and cut into the shape of a baby shirt. Colors are soft and cute for either boy or girl. Greens, browns, and white. This listing is for a set of 30 napkins. Use as napkins of course, AND hang a few over a ribbon for an instant banner! See last photo to get an idea of what my napkins look like as a banner.
1st pic shows a combination of these lamb napkins with another of my listings - with baby's initial.
Each napkin is 6" long and 5" across, is TRIPLE ply and opens up to double this size, as in one of the pictures in the listing. Each quantity is a pack of 30, so if you need 60 napkins, order a quantity of 2, etc.
Each one is very slightly different depending on the cut of the napkin.
Non-smoker in a non-smoking home.
Priority Mail to get your napkins to you safely and fast.
Actual emails from satisfied customers:
"The napkins couldn't have been more precious! I hung [some] along the edge of the table over ribbon and I it was the mom-to-be's favorite thing!"
"I couldn't even try to describe how cute these are,,, soooo pleased. Tk u:) "
"Thank you for the custom order. They are the cutest baby shower napkins I have ever seen. Can't wait to display for my daughter's shower. Great price and quick ship greatly appreciated. Thanks again!"