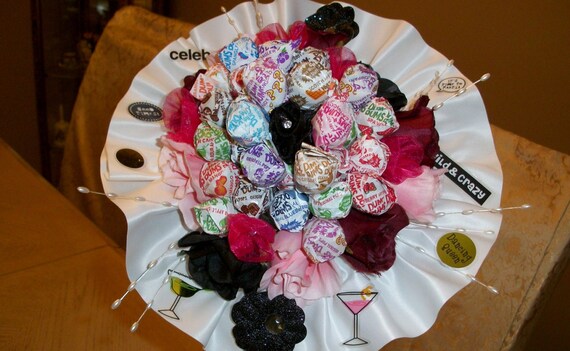 Product Info
Unique Suck for a Buck Bouquet that is a money maker for the Bachelorette
Personalized and decorated for the last night out on the town as a single woman..
Has a mixture of :Dum Dum, Tootsie Rolls and Blow Pops in several flavors. Accented with black and pink silk flowers and tafetta mini flowers and 2 larger black or pink flowers on the white satin bouquet collar. Ready bouquet for the Bride-to-be to carryall day and night.....
Slanted handle and easy to carry.
Pink/White/Black Zebra Sash. Can also add more by request at checkout.
Also available: Bachelorette Party" or "Girl's Night Out" Ribbon to make a sash.
Please request this at checkout also.
Something fun and memorable........
Help the Bachelorette make a few dollars $$$$ for her upcoming nuptials.
Note: Styles and Colors vary to what is in stock.
This is about 2 lbs. and shipping prices are slight higher.
If you live in the Chicago area, please let me know and will get delivered to you.
Note: Vase not included