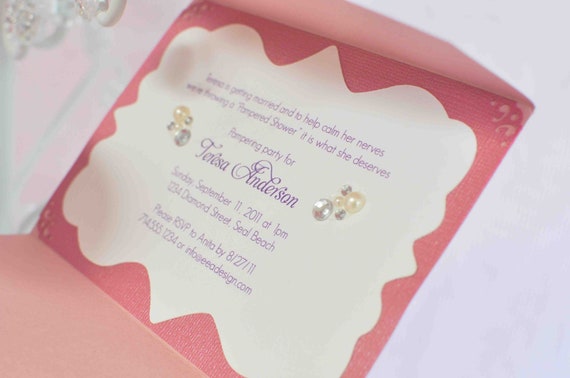 Product Info
1 Sample Invitation
These are my "Vintage Jewelry" style invitations for a wedding or other event. Invitation orders of 25 or more will be personalized with your names, date, location and initials. Each invitation includes:
- 4"x6" (when folded closed) luster card stock enclosure with dark pink gem pattern affixed to the flap
- 4"x6" flat luster card stock mounted on the inside of the enclosure with corners cut out in a decorative pattern
- 3.5"x5.5" white card stock printed with invitation details is cut into a frame shape and mounted onto the inner luster card stock
- Clear gem and white faux pearls are affixed to the printed invite card stock
- Matching RSVP card and white RSVP envelope are available for an additional cost
- White outer envelope (an outer and inner envelope can be added for an additional cost)
LUSTER CARD STOCK OPTIONS
- Light Pink (pictured)
- Dark Pink (pictured)
- White
- Baby Blue
- Blue
- Green
- Yellow
- Purple
- Lavender
- Silver
- Gold
*All inserts are printed on 110lb card stock
*If a map image is required it needs to be supplied by the purchaser, or it can be designed for an additional cost
*Envelopes can be upgraded to color for an additional cost
*Convo me if you'd like to place an order for 25 or more!
*Please contact me with any and all questions or requests you might have regarding this product.
*You can visit my website for more information about my company and wedding coordination in Southern California:
www.EEADesign.com
www.EEADesign.blogspot.com
www.facebook.com/EEADesign.com