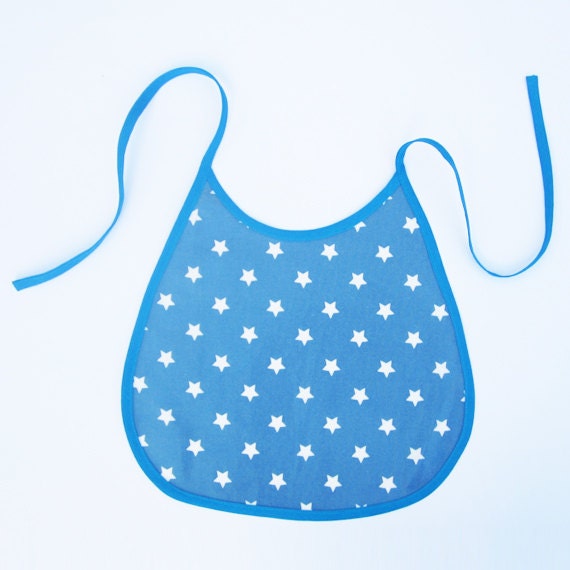 Product Info
This beautiful Blue Stared green oilcloth bib is perfect for any weaning baby.
Oilcloth is waterproof and fairly stain resistant.
Just wipe it clean after each meal. If extra cleaning is needed oilcloth cleans up well with a warm, soapy sponge then dry it off with a soft cloth or sponge. Machine washing is not recommended.
Your folded oilcloth purchase can be decrease by laying it flat in a warm place. The oilcloth will become soft as it warms up. Use you hands to smooth out any creases. Once your oilcloth product is smooth keep it rolled or hung up between uses.
Fading may occur under direct sunlight for extended periods of time since the Oilcloth does not contain a UV inhibitor.
The bib is roughly 30cm x 24cm ( 12' 'x 9.5'') in size. Suitable for 6 mo - 2T.
The bib ties at the back with ribbon. Please be careful and make sure the baby is not left unattended while wearing the bib. left over on the end of each side of the garland is long enough to tie. The best way to fix to a wall is with blue tac. 
If you wish you send this item as a gift I'd be happy to ship it directly to whoever you want. Just include details in the notes section as you check out.
Please visit my Facebook page for news on recent projects
www.facebook.com/loveprettygarlands