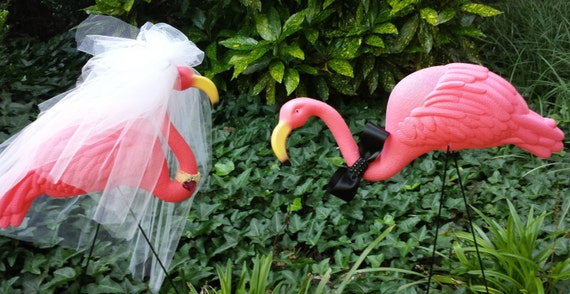 Product Info
Pink Flamingo Bride and Groom Yard Ornaments. Set of two, one bride, one groom. A fun way to decorate the yard of the returning honeymooners! Great wedding decoration!
The flamingos are the typical yard flamingos. The pink flamingo measures approximately 17 1/2' from tail to beak. The flamingo body is about 4" from front to back and 8"-11" from top of head to bottom of belly. This varies because there are several different positions for the flamingos (standing tall or leaning forward - the change is in the neck area). With the wire legs the flamingos stand between 24" and 30", again based on the pose. Flamingo style and décor may vary slightly but will be comparable. Each set is custom designed.
OUR CURRENT FLAMINGO INVENTORY may vary slightly from photo but they are still comparable in size, color and overall look.