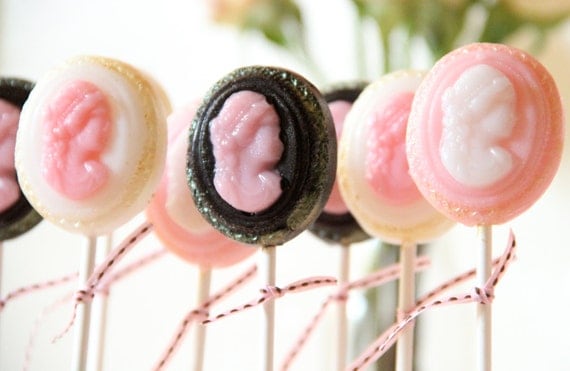 Product Info
Cameos from the fifteenth century were popularized by Queen Victoria of England
You will receive one package of 4 lollipops in 1 color and 1 flavor. The cameo measures is 2 inches high by 1 3/4 inches wide. Each lollipop will be wrapped in an individual cellophane bag. Orders of multiple packages gladly accepted. Please send an email if you would like more than 1 set.
Everything is made to order to ensure a fresh arrival at your front door so please allow 3 to 4 days before delivery or shipping. Since we don't use preservatives lollipops should be stored in an airtight container and consumed within 4 to 6 weeks.
Ingredients: sugar, candy flavoring, food coloring,corn syrup edible gold
Storage and Shelf Life: Store in an airtight container. Consume within 4 to 6 weeks.
Please notify your event date.