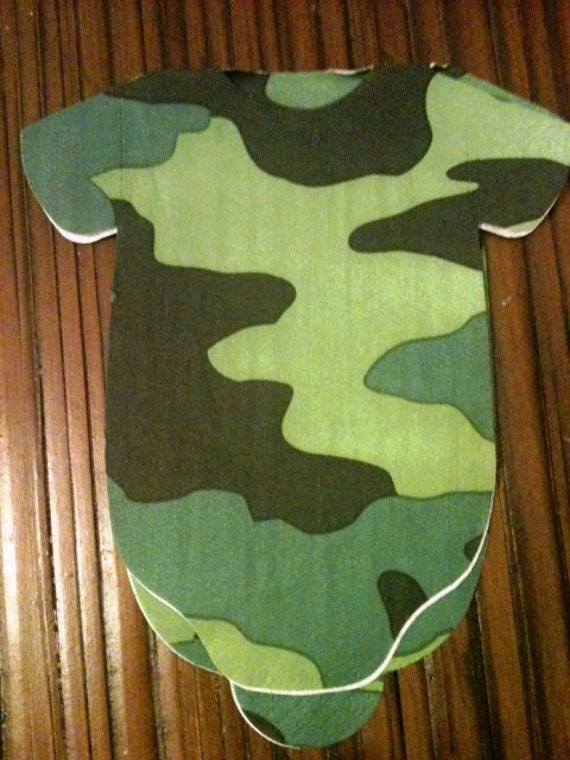 Camoflauge green Baby shower napkins shaped like baby shirts or bibs.
By wrapsidazy
Product Info
These baby shower napkins are absolutely adorable and sure to be a hit at your baby shower! Each one is cut in the shape of a baby shirt or a baby bib...your choice! Last pic shows the shape of my shirt napkin and my bib napkin.
Each napkin is about 6" long and 5 1/2" across and opens up as in one of the pictures in the listing.
They are in between the size of a luncheon napkin and a cocktail napkin.

Each one is very slightly different depending on the cut of the napkin. Use as napkins, of course, and hang a few over a ribbon for an instant banner!
Actual emails from satisfied customers:
"The napkins couldn't have been more precious! I hung [some] along the edge of the table over ribbon and I it was the mom-to-be's favorite thing!"
"I couldn't even try to describe how cute these are,,, soooo pleased. Tk u:) "
Use as actual napkins or decoration or even frame one for the nursery.
Non-smoker in a non-smoking home.
Featured in a Treasury List, "Best Baby Shower Ever!" http://www.etsy.com/treasury/OTIyODIwNXw2NTkyODEzOTI/best-baby-shower-ever
pc