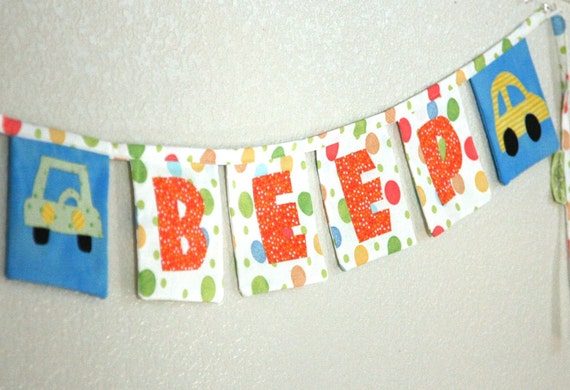 Car theme banner/ bunting/ party or room decor: MADE TO ORDER
By EljahB
Product Info
BEEP BEEP car banner is a perfect gift, fun addition to any special room, or party decor!
WHAT DO YOU GET WITH YOUR PURCHASE?
*Eco-friendly, reusable banner for year after year
*100% high quality designer fabric in front and back (not felt, muslin, or broadcloth)
*double layer fabric to provide weight so it hangs nicely
*finished edges on each block
*blocks are stitch free in the back so the back fabric provides extra decor when visible from both sides
*bold, hand--traced and cut out lettering
*letters are fused
*beautiful color combinations
*unique banner; banners are never the same
*CUSTOM…I can do any name, word, or saying you would like
*handmade with love and care; if I wouldn't hang it in my house, I don't post it!
MORE IN DEPTH....
This BEEP BEEP car banner measures a little over 7ft from end to end and each side has an extra 1 foot of hanging, hand-made bias tape (string). This allows flexibility with where you can hang it. You can tie it to a structure or hang it on a wall with tacks.
The color theme is light blues, yellow, burnt orange/red, green, and white.
Each block measures 4.5 X 4 inches and is spaced apart by ~ 1inches. The letters are bold and clearly visible from a distance. The lettering is hand traced and cut. It is adhered to the fabric using fusible web.
The banner is framed by little yellow cars and one green car in the center. Each is out of complimentary fabric.
What is special about this banner is that the stitching is only on the top layer. This allows the backing fabric to remain a beautiful collage of colors if hanging in a door way and visible from both sides. It provides extra decoration!! The double layers of fabric provide weight and give the banner a beautifully finished look. The fabric is high quality, 100% cotton. The back fabric is the same fabric as the background of the letters.
****SHIPPING NOTICE*****
I only use priority shipping within USA for banners. USA residents will receive a tracking number and packages arrive 2-3 business days after mailing. Unfortunately, the USPS does not offer tracking numbers for international packages unless it is express; however packages do arrive within 6-10 business days. I use First Class for international shipment. If you would like to upgrade to priority or express shipping, please message me so I can adjust the shipment.
Thank you for looking!