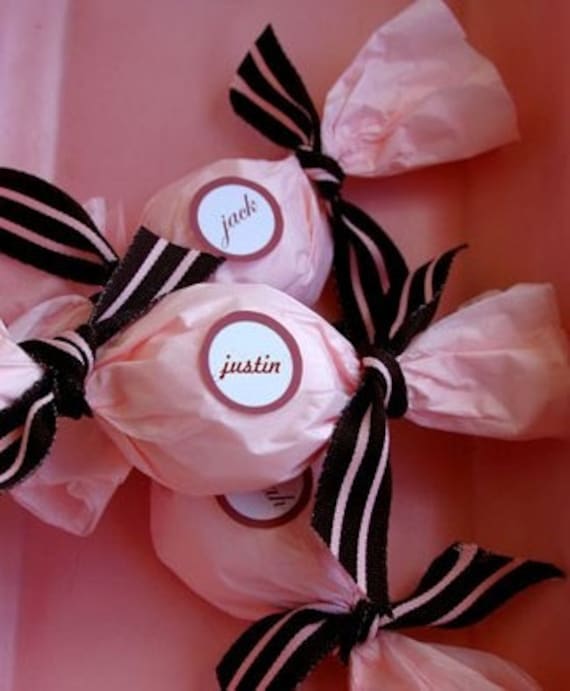 Product Info
SWEET, SASSY, CLASSY, AND YUMMY FOR YOUR PARTY!
These are designer and custom hand wrapped candies.
Contact me for your custom order and your candy options: Any hard candy of your choice, Tootsie Rolls, Smarties, full size candy bars, Hershey's Nuggets, and any other candy you would prefer.
These are sets of candy that are pre-wrapped for your specific event, theme, and color choices. I can custom coordinate with the candy bag toppers and candy matchboxes also listed in my shop or to your event colors. They can be wrapped in designer paper, custom solid colors with embossed paper in several different raised pattern options, or tissue or crepe paper.
They can also be delicately done in cream or white tissue or crepe paper with elegant ribbon or lace and floral sprigs for wedding guest favors or any special occasion!
These little candy wraps can be custom tailor decorated for your special celebration. The finished wraps pictured are wraps that have been previously made for local parties. I can create as many of these candy wraps as you need in any style or color requested. They can be embossed and I can add flowers and embellishments or double layers of coordinating solid or designer pattern paper. I can print small text, logos, or monogram letters and add the printed images to each one.
These come with candy. I am not legally responsible for any illness or product tampering associated with eating the candy. The candy comes directly out of a sealed manufacturers bag and I only use candy that is individually wrapped. Candy is bought fresh, within 48 hours that the custom order is paid in full. These wraps can be purchased to coordinate with the candy bag toppers and candy matchboxes-see my shop for my other listings to purchase those to be sent with your matchboxes or toppers. I will combine shipping for multiple party favor orders.
NEED A CUSTOM DESIGN...If you can dream it, I can make it!
I can take custom orders of this design or any theme or design you would like and in your requested colors up to 50 in quantity, a minimum order of 20 is required for these party favors. Payment in full and in advance is required for custom orders and orders are completed and mailed within 5 business days from date of payment. On custom Favor orders, a few sample designs are completed and a photo is emailed to you for approval prior to completing the order and shipping.
Prices for custom orders are:
20 wraps & Candy ($1.99 ea. x 20)=$39.80
40 wraps & Candy ($1.85 ea. x 40)=$74.00
50+ wraps & Candy ($1.75 ea. x 50)=$87.50
Large Candy Roll Wraps & Candy= $4.99 ea.
Candy Bar Wraps & Candy Bar= $3.99 ea.
Print Fee = $6.00 additional printing fee for every set of 50, if requesting a custom image, text, or monogram.
Hand Stamped Images Fee = $9.00 additional hand-stamping fee for every set of 50.
Larger orders- require two weeks advanced notice and please email me for a price quote and your deadline for your party for anything over 20 items.
Shipping fee quoted in this listing is only for smaller candy options up to 50 quantity. Candy bars and larger candy rolls require a custom shipping quote depending on your quantity and choice of candy.