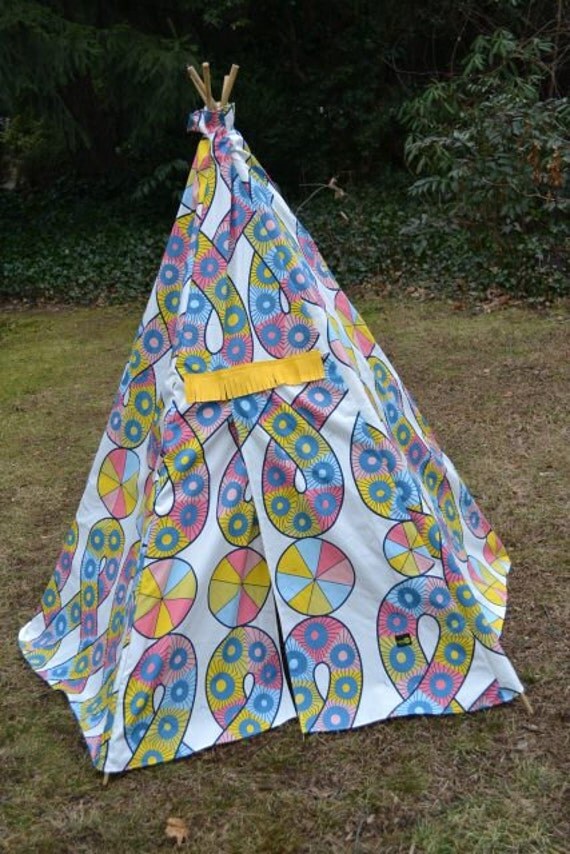 Tepee Pastel Pattern Kids teepee play tent wigwam 6ft Tall 5 sided tent No Assembly Required
By BabyPop Capes
Product Info
Children easy set up 5 sided Play Teepee Tent made Bamboo and Cotton. 6ft Tall 5 sided tent No Assembly Required Handmade Made In USA by moms
Collapses like an umbrella- Featuring a explore your world play window. Can be used outside and inside easy to set up. This tepee features an inside pocket to hide toys and other goodies.
Childrens Kids Play Tepee Teepee Tent 6ft Tall 5 sided tent No Assembly Required Shipping to OR
This teepee is not made and ships in about 3-4 weeks to make - Shipping is not included in price (shipping is not Free) and will be quote once shipping address is advised (read below)
I have other fabrics available in other colors patterns so ask.
Most Childrens play tents tepee are 4 side, but BabyPop Tent Teepees are 5 sided so larger inside. The Teepee also feature a window to look out and see the world. We also do not use PVC Poles we use 6ft eco friendly Bamboo. Great kids imagination pretend fort.
I was the 1st teepee seller on etsy back in 2006.. then my superhero cape business took off I still make teepees so just ask- many patterns available
No Assembly Required
The Baby Pop Children Foldable easy set up Teepee can be used indoor or out. I would not recommend leaving permanently outdoors during a rain because it might get yucky over time. The kids tent Teepee when open is 5 feet high X 4 feet at the base. Closed this childrens tent teepee is 6 ft tall but can fit in the corner of any room. It is easy to set up just pull the legs open. Kids will have there own fort can fit 2-3 kids inside sitting down. The ages I recommends is 3-6.
Teepee Quality:
Sherry Aikens has 15+ years in the Apparel Industry has taught me quality first. Read Babypop feedback words like "excellent quality workmanship" are used often and trust me there is a difference..
I have been selling these on etsy for 5+ years and I am the 1st person who sold teepees on etsy. So buy from the Original!
My Teepee Fabric is Heavy weight Deco Fabric from Brands Like Waverly, Ralph Lauren and More.
Great for kids, preschools and read nooks for school or home.
I have other patterns available, along with solids so if you are looking for something special let me know. Custom Teepees and Tents take 3 weeks to make.
Please read Shipping IS NOT FREE...
The buyer is responsible for shipping and packaging. I live outside of Philly so I would be willing to do local pick up. Teepee tent Packaging is $6.00 and shipping depends where you live in the US. West coast is $40.00. Philly area is $22.00.
Teepee Tent would be taken to be packaged UPS and the dimensional weigh is 30lb even though the tent weighs less than 10 lb but the box is over 6feet . If you should be interested in this item I would be happy to get the pricing estimated by a professional.
Check out My etsy store for other BabyPop Personalized SuperHero Capes and Clothes
BabyPop Designs Saving One Backyard at a time.
BabyPop, BabyPop Designs, logo, name, taglines, descriptions, pictures, designs, are registered and protected by US Trademark and Copy write law.