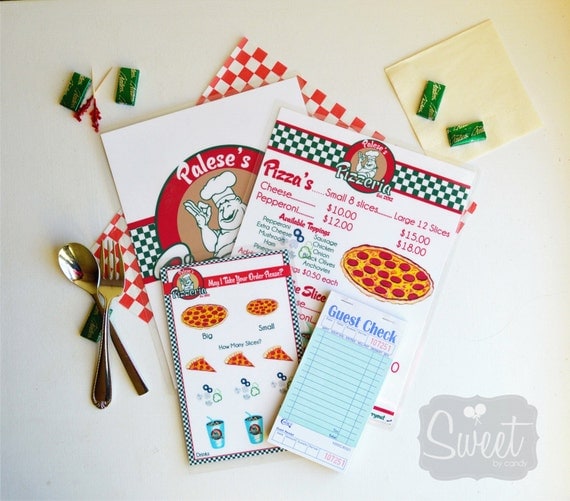 Product Info
This Pizzeria set was designed to enhance your childs creative play time. Give your child their very own Pizza Shop with this realistic menu set. Works great with your childs own play kitchen and play food items. Each menu comes with prices so that you can use it to practice basic math skills as they add up your items on the inculded Guest Checks.
This makes a great center activity for school teachers as well!
All menu item artwork was hand drawn by Kelly at Mimloft Creative Studios custom for this project.
**What's Included**
2 8.5x11 Menu's printed Front and Back
Each Menu is Laminated using a heavy 10mil lamination so that they hold up to kids play
1 8.5x5.5 Laminated Menu order form.
Printed blank on one side and printed with menu item pictures on the other side non readers can play also!
1 Pad of Restaurant Guest Checks 50 sheets per pad
1 8.5x11 Laminated Open/Closed Sign
All images and items are copyright of Sweet by Candy and Mimloft Creative Studios 2013