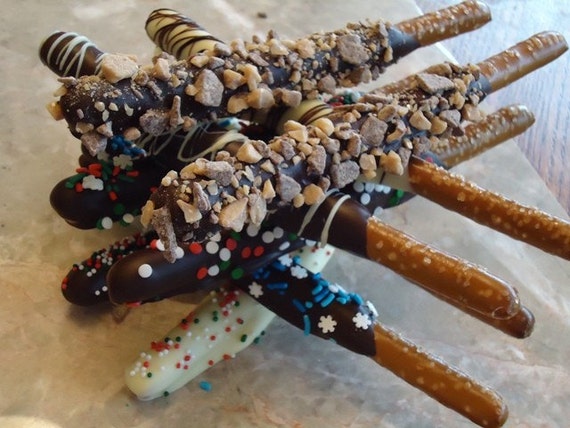 Product Info
Chocolate dipped pretzel rods hand dipped in dark Belgian chocolate.
Choose your option:
Option 1: Our "Chocolate" dipped pretzels rods are packaged in cellophane bags (2 per bag) with a variety of drizzled chocolate and festive sprinkles for any occasion. 6 bags total. No toffee pretzels in this option.
Option 2: Or choose the "Toffee Only Pretzels" in the drop down menu for 9 individually wrapped toffee pretzels.
Individual cellophane bags are tied with ribbon and packaged in a decorative giftable box.
Make great party favors or a great addition to gift baskets!
Join us on:
Facebook: facebook.com/nvchocolate
Twitter: @napachocolateco
Pinterest: nvchocolate
Visit our web-site @: www.napavalleychocolateco.com
707-815-2963