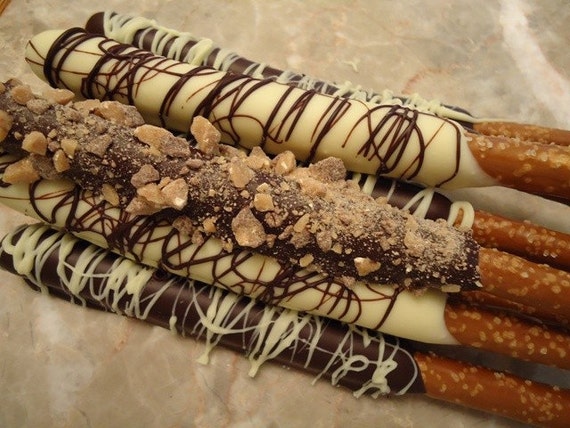 Product Info
Chocolate dipped pretzel rods hand dipped in dark Belgian chocolate.
Choice of "Assorted Chocolate" or "Toffee Only"!
Our bulk "Assorted Chocolate" dipped pretzels rods are packaged in cellophane bags (2 per bag), with a variety of drizzled chocolate and festive sprinkles for any occasion. 12 bags total. No toffee pretzels in this option.
Or choose the "Toffee Only Pretzels" in the drop down menu for 18 or 36 individually wrapped toffee pretzels.
Bulk, just add your own ribbon! (No Gift Box)
Make great party favors or a great addition to gift baskets!
Join us on:
Facebook: facebook.com/nvchocolate
Twitter: @napachocolateco
Pinterest: nvchocolate
Visit our web-site @: www.napavalleychocolateco.com
707-815-2963