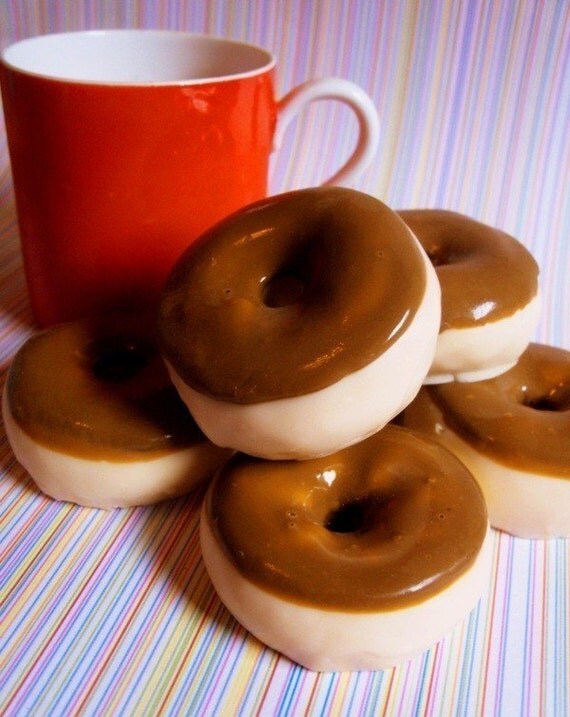 Chocolate Glazed - Mini Donut Soap - 4 pack - gift set - bath and body - handmade vegan soap
By Howard's Home
Product Info
MmMmMmM……Donuts………WoooooooHoooooooo !!!!!!!!!
No......these aren't REAL donuts....they are SOAPS!
These soaps are absolutely amazing!
They look and smell just like real chocolate mini donuts!
Each Mini Donut Soap is made with natural handmade glycerin soap (No Parabens or SLS!) and then scented with a fresh baked sweet donut scent. Then to top it all off, each Mini Donut Soap is hand dipped in its own chocolate scented frosting!
Each Mini Donut Soap weights approximately 1 ounce each!
This set includes 4 Mini Donut Soaps at a total weigh of approximately 4 ounces.
Your soaps will be packaged in a clear celo bag with cute tag attached.
Perfect for gift giving or to keep for yourself!
Oh...we forgot to mention these soaps are VEGAN too!
These soaps smell and look so good that we suggest that they not be not for children under three....they could mistaken these soaps for real donunts and take a bite!
Back to all listing in our shop
http://www.howardshome.etsy.com
Thanks for looking :-)
Additioanl tags:
donut, donughts, bakery, chocolate frosting, chocolate icing, chocolate scented, sweet, gift set, christmas gift, stocking stuffer, gift for husband, gift for man, gift for brother, gift for uncle, gift for grandfather, gift for police, cop, gift for mother, gift for mom, gift for aunt, gift for grandmother, gift for grandma, gift for sister, teacher gift, vegan, handmade soap, baby donut, gift pack, custom designed tag, brown, tan, coffee and donuts, gag gift, fake food, food soap, made in Pittsburgh