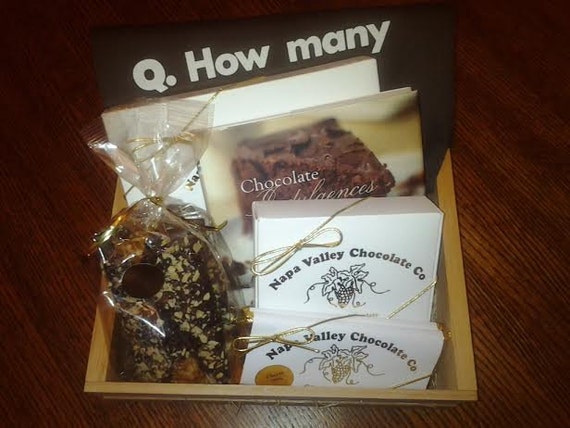 Chocolate Gift Crate: Chocolate Truffles, Wine Truffles, Chocolate Bars, Toffee, Recipe Book, Holidays, Apron, Father's Day, Graduation
By Napa Valley Chocolate Co.
Product Info
Wooden Gift Crate loaded with Chocolate goodies for your favorite chocolate lovers this holiday season!
Traditional Chocolate Truffles (12 Pc.)
Wine Cellar Truffles (6 Pc. Cabernet)
2 ~ 70% Dark Chocolate Bars w/ Cocoa Nibs
English Toffee (1/2 lb.)
Chocolate Recipe Book
Chocolate Themed Apron
Special orders gladly taken with your choice of the following options!
12 Pc. Truffles:
Asian, Classic Candy, Exotic, Wine Pairing, Traditional or Hot Chocolate Collections
6 Pc. Wine Cellar Truffles:
Zinfandel, Pinot Noir, Chardonnay, Sauvignon Blanc, Rose or Champagne
70% Dark Chocolate Bars:
Cherry, Blueberry, Espresso, Bacon or Candied Ginger