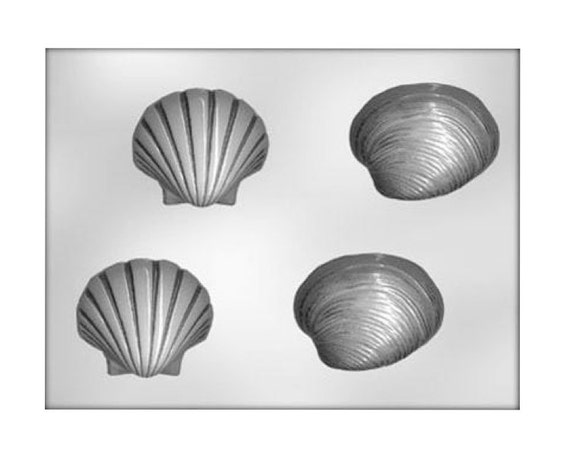 Sea Shell Chocolate Mold - Candy Mold - Candy Making - Party Supplies
By Charmios
Product Info
This Sea Shell Chocolate Candy Mold is so easy to use - simply melt and pour the chocolate into the mold and stick in the fridge for 10-minutes to set. Perfect for a "Surfs-Up" or "Beach" themed party.
★ Each Shell measures 2-3/4" x 2-1/2" x 1/2"
★ 4 cavities per mold.
★ This mold makes approximately 15 pieces per pound of chocolate.
★ This mold is not used for candy centers.
★ Suitable for chocolate, soap making, resin, plaster and concrete crafting.
★ NOT DISHWASHER SAFE
★ Do not use for hard candy or other hot ingredients.
★ First quality plastic mold, FDA approved
This listing is for ONE (1) SEA SHELL CHOCOLATE CANDY MOLD.
★ SHOP SECTIONS ★
Be sure to visit our other shop sections:
> Cake Decorations, Pans
> Candy, Lollipop Molds
> Cookie Cutters
> Crepe Paper, Tissue Wrap
> Felt Sheets, Bundles
> Glitter, Paint
> Paper Mache, Wood Crafts
> Paper Goods, Party Supplies
> Tape, Twine and More
By visiting our home page at http://www.charmioscraftparty.etsy.com
★ ABOUT ★
Based in the NYC/NJ area, Charmios offers a unique craft party experience for any event, which is guaranteed to make a lasting impression with your guests! We'll create a custom craft project that fits within the theme of your event and bring all the materials to your party location. We'll organize it, handle the set-up, craft time and all the clean up so you can relax and enjoy your special day.
Contact Charmios Craft Party for package options, craft projects, and to book your next event! If you are outside the NYC/NJ area, we offer custom do-it-yourself party kits. For direct links to our blog and Facebook page, be sure to visit our about page.