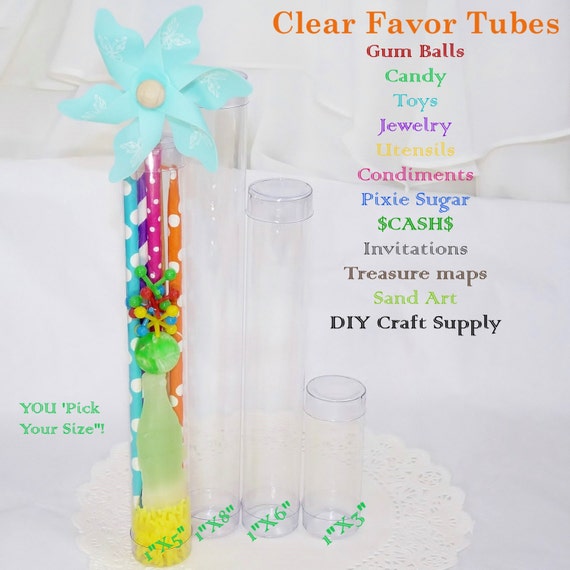 Clear Plastic Tubes-Candy Tubes-Favor Tubes-Princess Wand-Magic Wand-Pirate Sword-Sabor-Gumball Tube-Ribbon Wand-Party Favor-Supplies -Fairy
By Lola's FaNcY Party Shop
Product Info
PICK YOUR SIZE/ LENGTH
....................PaRtY CLEAR FaVoR TUBES
JuSt Add ReTrO CANDIES!! NoveLtY TOYS !!! TattoS, BubbLeGuM, CASH!!!!...
.the PaRtY FaVoR FAVORITE!!! :)
******Other items in Pictures NOT Included with this listing*****
you receive...Your CHOICE of ONE Of the Following....
6 count___ 12" length by 1" width Clear Plastic Party TUBES...
OR
12 count___ 8" length By 1" Width
OR
14 Count___ 6" length By 1" Width
OR
15 Count___3" length by 1" Width
****** WITH Dual CAPS / LIDS! (easy to fill from Bottom UP !****
************ ***EMPTY*** DIY Ready to FiLL *** ********************
**Hand WASH**
below is Information on ALL My Plastic Food and Beverage Supply...I get these directly from the same manufacturer as
Pet Dairy, Kraft Foods, Bristol Myers...etc...
There has been a lot of confusion about what is in our plastic containers since concerns were raised about the safety of polycarbonate products containing bisphenol-A (BPA). Recent campaigns in Canada, Europe and the United States have also suggested that all single-serve plastic bottles are harmful to the environment. Sometimes it's hard to know if there's any such thing as a good, safe plastic.
Facts on PET is a coordinated effort to provide accurate information on one of the most common types of plastic we encounter on a daily basis, polyethylene terephthalate (PET). PET (also known as PETE) plastic products are designated by the recycling code "1." Most single-serve plastic bottles, including those for water, soft drinks and juices, are made with PET, which does not contain BPA. PET is globally recognized as a safe, recyclable packaging material.
*** Stamped Labels....(SHOWN in PiX) , and Fun Party Ribbons in Lola's FaNcY PaRtY Shop!!!
Getting Family & Friends Together is FUN !!! Don't Stress..."You Got This...!"
Enjoy Your Beautiful Celebration with
FaNcY Garnishes for Simply Fabulous Parties :)
Have any questions? Contact the shop owner.