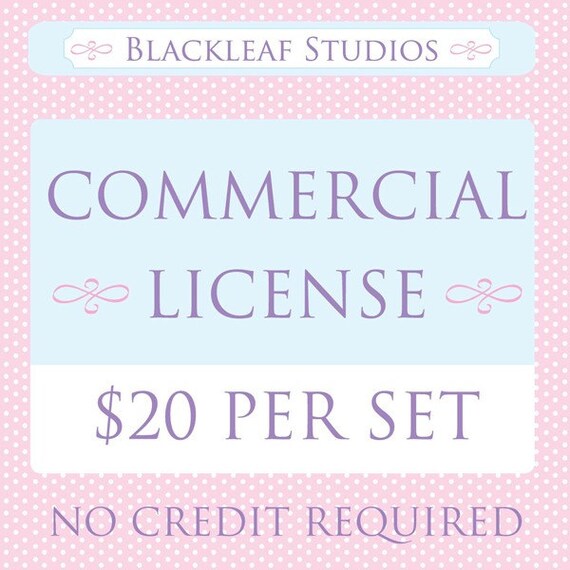 Product Info
Blackleaf Design Terms of Usage
Welcome to Blackleaf Studios @ Etsy!
All images copyrighted to Blackleaf Studios © 2011
____________________________________________________
Blackleaf Studios offers DIGITAL files for Small commercial activities, home based businesses and personal use. You may not use our products for mass production, Retail, creating an entire product line or similar large commercial activities. All designs offered AS IS with no warranty of any kind. If you are looking for Mass production, please email us for License options.
Commercial Credit Required: Please make sure to Credit BLACKLEAF STUDIO with a clickable link wherever the design is displayed (design by BLACKLEAF STUDIO)
Commercial No Credit Needed: Please purchase 20 USD commercial license to use this item for Profit and resale and you do not need to Credit BLACKLEAF STUDIO.
Non-Profit: PERSONAL and NON profit use. Credit to Blackleaf Studios required.
_______________________________________________________________
Your clip art files will be sent to you via email within 24 hours of purchase and completed payment. You will receive individual PNG or JPEG or both PNG and JPEG files. The size of the files are approximately 7 inches and are high resolution/300 dpi.
_______________________________________________________________
YOU CAN :
1. Create PRINTED stationery , hand made or printed cards, in brochures, flyers, business cards, all sort of printed stationery elements
2. Create PRINTED stationery or other PRINTED products at Zazzle, Cafe Press, Etsy and in your own store.
3. Create Logo and use the cliparts as part of the design. You may not sell graphic as is as LOGO by itself.
4. Create Printed games, printed collage sheets, printed stickers, printed decals, printed textile material, manufactured clothing.., hand made toys, crafts and jewelry etc. all tangible items.
5. ***Website/ Blog templates, banners, headers, footers, buttons, store fronts only if the design is flattened 72 dpi absolutely cannot be extractable.
6. FOR DIGITAL SCRAPBOOKERS*** Our CLIPART and STAMP sets cannot be used AS IS or ALTERED in your Commercial SCRAPBOOK / ELEMENT KITS. Only Digi tools ( overlays, swatch sets, brush sets, pattern sets) can be used to create digital paper or flatten surfaces if only graphics are flatten and cannot be extractable. Do not alter our cliparts or stamps and add inside your kits, even they are altered we do not allow this use .
7. FOR EMBROIDERY DIGITIZERS***You can use our design to create DIGITIZED EMBROIDERY and sell in digital form.
8. FOR DIGITAL INVITATION DESIGNERS***You can only create FLATTEN JPEG format digital invitations , DESIGNS CANNOT BE ON WHITE BACKGROUND AS IS, it needs to be full design with other elements blended so our Graphic cannot be extracted as individual graphic. Invitation should be fully customized before sending to customer. YOU CANNOT SELL blank or in digital template form for others to customize but only PRINT. Other printables are not allowed in digital forms such as Wrappers, toppers, labels, stickers, collage sheets..etc.
9. FOR TEACHERS, EDUCATORS***You can use our products on educational Material, If you are an ONLINE EDUCATION SITE selling games, teacher documents, You can only use our graphics DIGITALLY if Document is a PASSWORD PROTECTED PDF file only allows people to PRINT. File should not open with any other program then Acrobat Reader.
Products cab be used for the following:
You may use clip art for
as is for
DIGITIZED EMBROIDERY
Scrapbooking
Zazzle and cafe press
Printed Paper Products (stationary, cards, business cards, logos, tags )
Embroidery
Jewelry and mixed media
Web Design
Craft Projects (bookmarks, bag toppers, games etc. as long as it is a printed item)
Birthday Sets (banners, cards, games, cupcake toppers, as long as it is a printed item)
Clothing
Jewelry
Handbags, lunchbags, purses wallets
Plushies
Clothing, onesies, appliques
fabric
Stickers
Home Decor
Wall art
Decoupage designs
Digital Cards as long as it is a flattened JPEG and not on a blank background where it can't be extracted.
YOU CANNOT :
1. SELL OUR GRAPHICS AS IS or ALTERED and claim as your OWN. All copyrights remain with Stockkberry Studio at all times.
2. SHARE ANY OF OUR GRAPHICS AS FREEBIE and download
3. SELL OR SHARE DIGITAL DOWNLOADS AS IS or ALTERED ( scrapbook or graphic element kits, clipart kits, absolutely not allowed)
4. SELL OR SHARE AS CLIPART /ELEMENT SET even its gathered with other elements such as chipboards, alphas, layered quickpages, element sets,,).
5. SELL OR SHARE AS LAYERED TEMPLATE such as Photoshop layered album templates, layered Photo card templates, (or flatten template with our graphic on white background where your customer can extract our design)
6. SELL OR SHARE designer premade INVITATION TEMPLATES IN DIGITAL FORMATS
7. CREATE DIGITAL COLLAGE SHEETS an send our graphics to your customer in digital form.
© 2011 by Blackleaf Studios