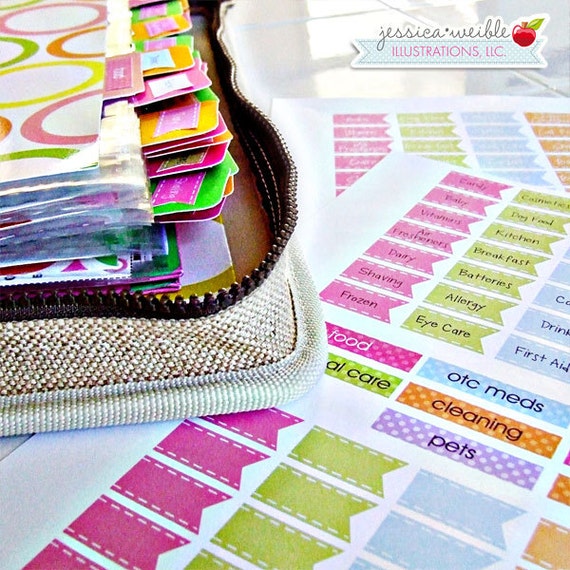 Coupon Binder Oranization Printables, Coupon File Folder Labels, Print Your Own, Labels for Coupon Binder
By JW Illustrations
Product Info
Put together your Coupon Binder with style! This set comes with great labels, title pages, shopping lists and more to help you organize your coupons and your coupon files. Set is completely DIY with printable pages you can print out at home, cut out and create with!
Set comes with a total of 13 printable PDF & JPG Sheets including:
1 - Sheet of Labels ( labels include categories for your coupon binder such as: food, otc meds, personal care, cleaning, pets, favorite restaurants & more) Labels also come with SUB-Categories such as: Laundry, Bathroom, Kitchen, Air Fresheners and many more) There are also BLANK labels for your customization!
1- Sheet of Month Circles & Use By Labels - (Punch out circles with a 1" circle punch and glue to a paper clip for a neat divider!)
1- Shopping List Sheet - (2 Shopping Lists per sheet) Print as many as you like!
10- Title Category Sheet Pages including: food, otc meds, favorite stores, rebates, restaurants, pets, cleaning, & personal care
*******************************************
Tools recommended:
Scissors - Double Sided Scrapbooking Tape - 1" Circle Punch - glue gun
***************************************
Printable Party Sets are for PERSONAL USE only. Please do not distribute, share or resell any of the files included.
All Rights remain with JW Illustrations/Jessica Weible
keywords: coupon, extreme couponing, frugal, coupon binder, organizing your coupon binder, do it yourself, diy, printables, printing, print out labels, coupon category labels, thrify, save, shopper, coupon file, organize, print, coupon binder categories, jw illustrations, jddigidesigns