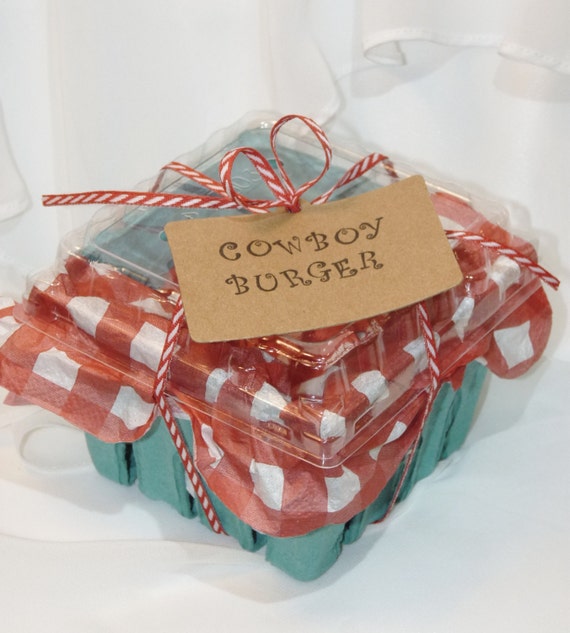 15 CowBoY Hungry Man Burger Baskets - Berry BASKETS-TaGs- Ribbon included CraTes- Better Now WITH -LIDS-Ready for HoMemAde SloPPy Joe's
By Lola's FaNcY Party Shop
Product Info
Berry Crates / Baskets...Now WITH -LIDS-
15 FarMeRs MarKet PlasTiC Lids MaDe JUST For The Berry CrAtes!!!
15 yards of "Tie me Pretty" cotton ribbon (colors listed at time of sale)
15 Kraft Labels _STAMPED_(options at time of sale)
see Lola's Shop for FaBuloUs...
___ WoodeN CutLerY!! __ LINK BELOW
http://www.etsy.com/listing/100768624/wooden-spoons-and-forks-24-cook-out-hand
___UTENSIL TUBES - Caddy
http://www.etsy.com/listing/121840730/clear-plastic-tubes-utensil-caddy-clear
___Lunch Boxes__
http://www.etsy.com/listing/101497619/12-white-lunch-boxes-food-take-a-way
***_OTHER ITEMS IN PIX "NOT INCLUDED" with this listing_***
What a Perfect way to deliver your "infamous" HomeMade PoundCake and Fresh Strawberries as a Party Favor or Neighbor Gift!.
Fill them with Fresh Peaches, Grapes & Plums .. scatter them around your table and watch your Guest 'Hand Pick' their choice! great way to 'simplify' Appitizers :)
Great at a buffet filled with Shelled Peanuts,. PopCorn and Chips....such a 'Old School, Vintage'
idea that will be sure to get conversations started of days past...!
The Berry Crates are 4 X 4 X 3 Lids Made To Fit...Straight from the FaRMErS MArKet !!!
Thank You for visiting
LOLA Loves A Party____ Making 'simple'..."Simply Fabulous" !!!
EveryDay is a GIFT....Enjoy & have a Beautiful Celebration, Happy me:) LOLA.