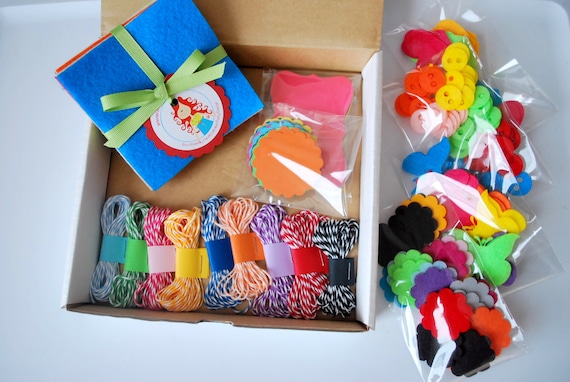 Crafts Supplies Kit, Crafters Mixed Supplies Pack, Value Pack - The Perfect Gift for Crafters and Children Crafts kit Box A735
By MariaPalito
Product Info
MariaPalito is going on Vacation!!! After a long and busy year, MariaPalito is taking some days off to recharge and rest. Please be aware ALL orders placed within DECEMBER 15th and JANUARY 6th will start being processed on JANUARY 6th in the same order they were received; that means, shipping will resume around JANUARY 7th and so forth.
I will keep receiving CUSTOM ORDER for JANUARY delivery.
If you have ANY questions, please be aware I will be on limited connectivity so I may take a couple days to answer but be patient.
-------------------------------------------------------------------------------
Crafters Mixed Supplies Pack, Value Pack - The Perfect Christmas Gift for Crafters and Children Crafts.
This Pack includes:
*12 (4 x 4 inches) sheets of Eco-Friendly felt 12 different assorted Colors.
Thickness: 1 mm
*36 yards of Twine in 9 different colors , 4 yards each color.
*24 Bracket Cards (3.5 x 2.5 inches) Cardstock mixed Colors
*24 Scalloped circles Cardstock (2 inches)
*16 felt hearts Mixed Colors ( 1.5 inches)
* 24 Felt flowers (1.5 inches) assorted colors
*60 Felt buttons (0.75 inches) assorted colors
*12 Felt Butterflies (1.50 x 1.50 inches) assorted colors
I would love to hear from you, Contact me if you have questions, requests or any comment about my products. Be sure to see more of my work and items at http://mariapalito.etsy.com/.