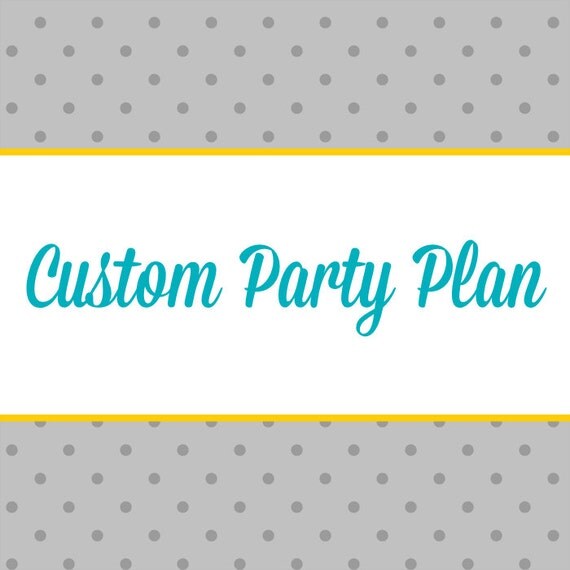 Custom Children's Party Plan - Custom Party Plan - Party Plan - Birthday Party Plan - Baby Shower Plan - Children's Party Plan
By Double the Fun Parties
Product Info
My custom party services are designed to take the load of the party off your shoulders. I work with you to select a concept and color palette and from there, you can relax.
A Custom Party Plan is delivered to you via email within two weeks of our initial consultation.
PROCESS
1 - Phone consultation to discuss your ideas and requirements.
2 - I create a Pinterest board just for your party. We both pin to the board to trade ideas for decorations, food, desserts, activities and goody bags.
3 - I create your Custom Party Plan as a password-protected page on my website.
WHAT YOU GET
Your custom party plan will include:
* Custom paper goods or party printables recommendations
* Decorating suggestions
* Dessert table backdrop design
* Dessert table menu recommendations
* Sketch of dessert table layout
* Other party food and drink suggestions
* Sketch of dining table settings
* Dining table decoration suggestions
* Party activity and/or craft suggestions
* Favor ideas and packaging recommendations
* Budget estimate (and ways to reduce your costs)
* Links to recommended vendors for party shopping
* Day of the party schedule for running your party
MY PARTIES
To see some of my parties, please visit http://thepartyteacher.com/our-parties/.
REVIEWS
"Jen created a custom party plan for my daughter's first birthday party, and her expertise was INVALUABLE. I saved time, I saved money, I saved major headaches, and the party was a big hit! It was worth every penny and then some! From now on, I will rely on Jen to make all my childrens' birthday parties extra amazing!"
— Angie, emailing about a Custom Party Plan we created for her daughter's 1st birthday
"Andrea was so happy with her party. She wanted a slumber party for her birthday and I fought it because I just didn't have any idea of how to make it special but still keep to a budget. Then, Jennifer to the rescue. You listened to me and, even more importantly, listened to Andrea. She loved it and knew she had you to thank. I would never have done a party in my home without you. I hope we are able to work on something together for Andrea in the future. It will be difficult to top it, but I know you can do it."
—Elizabeth, emailing about a Custom Party Plan created for her daughter's 7th birthday
"The plan is more than helpful … I don't feel alone with you. Thank you a million times over for your help! I have enjoyed working with you and I will definitely use you again."
—Gwennetta, emailing about a Custom Party Plan created for her twins' 5th birthday
COUPON
When you purchase from The Party Teacher, I'll send you a thank you coupon for 10% off Bird's Party Shop -- a great place to find all your party supplies, party decorations, party tableware, cupcake supplies and cute party favors and packaging!