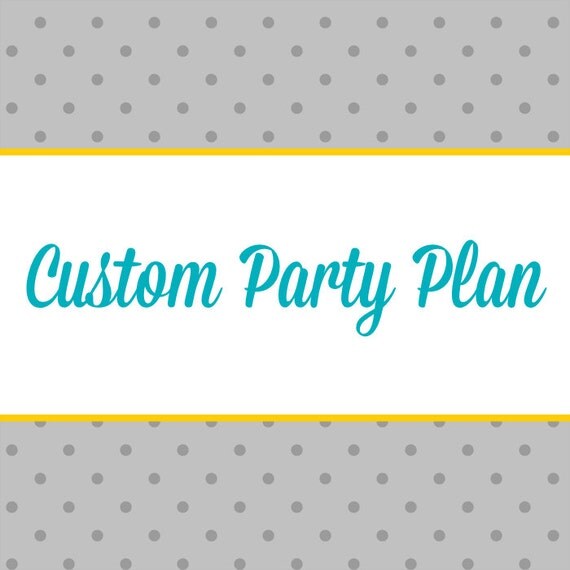 Custom Children's Party Plan: A Step-by-Step Guide to Making Your Party Theme a Reality + 10% off Party Supplies Coupon
By Double the Fun Parties
Product Info
My custom party services are designed to take the load of the party off your shoulders. I work with you to select a concept and color palette and from there, you can relax.
A Custom Party Plan is delivered to you via email within two weeks of our initial consultation.
PROCESS
1 - Phone consultation to discuss your ideas and requirements.
2 - I create a Pinterest board just for your party. We both pin to the board to trade ideas for decorations, food, desserts, activities and goody bags.
3 - I create your Custom Party Plan as a password-protected page on my website.
WHAT YOU GET
Your custom party plan will include:
* Custom paper goods or party printables recommendations
* Decorating suggestions
* Dessert table backdrop design
* Dessert table menu recommendations
* Sketch of dessert table layout
* Other party food and drink suggestions
* Sketch of dining table settings
* Dining table decoration suggestions
* Party activity and/or craft suggestions
* Favor ideas and packaging recommendations
* Budget estimate (and ways to reduce your costs)
* Links to recommended vendors for party shopping
* Day of the party schedule for running your party
MY PARTIES
To see some of my parties, please visit http://doublefunparties.com/our-parties.
REVIEWS
"Jen created a custom party plan for my daughter's first birthday party, and her expertise was INVALUABLE. I saved time, I saved money, I saved major headaches, and the party was a big hit! It was worth every penny and then some! From now on, I will rely on Jen to make all my childrens' birthday parties extra amazing!"
— Angie, emailing about a Custom Party Plan we created for her daughter's 1st birthday
"Andrea was so happy with her party. She wanted a slumber party for her birthday and I fought it because I just didn't have any idea of how to make it special but still keep to a budget. Then, Jennifer to the rescue. You listened to me and, even more importantly, listened to Andrea. She loved it and knew she had you to thank. I would never have done a party in my home without you. I hope we are able to work on something together for Andrea in the future. It will be difficult to top it, but I know you can do it."
—Elizabeth, emailing about a Custom Party Plan created for her daughter's 7th birthday
"The plan is more than helpful … I don't feel alone with you. Thank you a million times over for your help! I have enjoyed working with you and I will definitely use you again."
—Gwennetta, emailing about a Custom Party Plan created for her twins' 5th birthday
ABOUT DOUBLE THE FUN PARTIES
At Double the Fun Parties, my job is to make your job easier! I want to double the fun you have at your party by doing the work for you. I specialize in at-home children's parties. (But I'm not picky — you can call me for your bridal shower, baby shower, or destination party, too!)
QUESTIONS?
Please check our Shop Policies for our FAQs. If you don't see your question answered, please convo me.
COUPON
When you purchase from The Party Teacher, I'll send you a thank you coupon for 10% off Bird's Party Shop -- a great place to find all your party supplies, party decorations, party tableware, cupcake supplies and cute party favors and packaging!