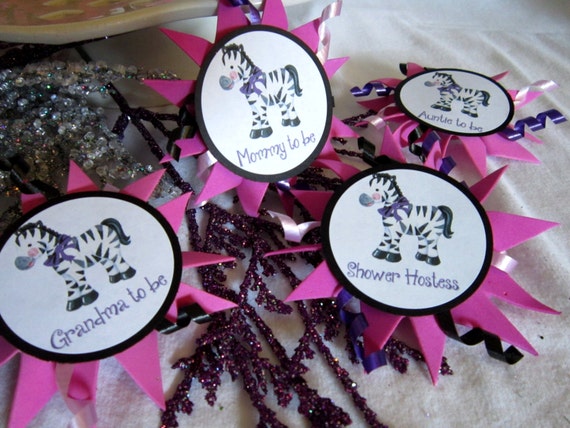 Product Info
This Baby Shower Funburst badge is custom designed to go perfectly with your shower theme. You provide your shower colors, theme and badge messages and you'll get adorable badges for all the special guests at your event. The photos are some examples of custom orders that have been completed in the past. Each button is $4. In addition, there is a $5 creative fee per design. So 1 button is $9, while 5 buttons are $25. 10 buttons would be $45 and so on.
Photo 1 - Baby Girl Zebra shower, featuring purple, black and white color scheme
Photo 2 - Baby Boy Turtle shower, featuring blue and white color scheme
Photo 3 - Baby Girl Elephant shower, featuring grey and pink color scheme
Each badge is about 4" in diameter and made of soft craft foam, cardstock and curling ribbon. A pin back is firmly attached to the back. This item can be customized with your message(s) and colors.
Choose from 1 badge or a bulk order of 5 or 10 badges when you order. Provide all the details of your messages and colors in the notes section when you order. If you need more than 10 badges, contact me for special pricing. This item contains small parts that may not be suitable for children under the age of 3.
Most orders are ready to ship in 3-5 days. Special requests may take a bit longer. I reserve the right to include any custom designed items in my shop as permanent listings.