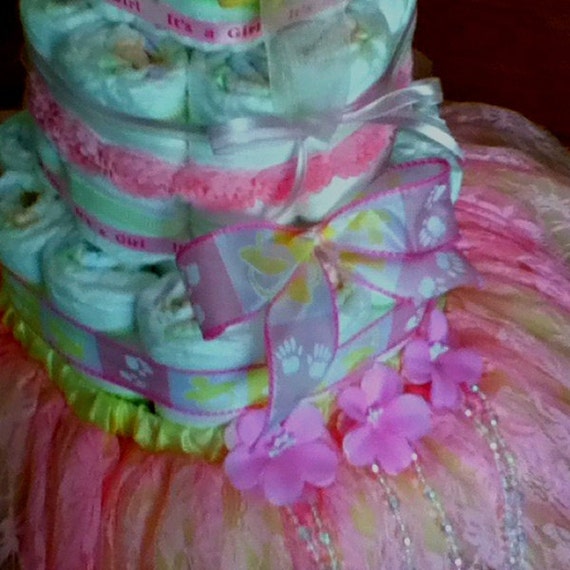 Product Info
Each diaper cake is specifically made for the recipient. While all cakes come with same items unless requested or changed, no two cakes are ever exactly the same. These lovely handmade diaper cakes are absolutely beautiful and perfect gifts for the parents to be!
Anything can be changed or incorporated to make this cake specific for the big event, for what you have in mind.
The cake is not edible, even though it looks amazing!
All the layers are made with Huggies size 1or 2 diapers unless requested differently.
*Each cake comes with a travel pack of goodies.
All diaper cakes do come with a bulb syringe, thermometer,baby nail clippers, set of baby spoons, a baby wash cloth soap holder, teether, diaper cream,baby lotion,baby wash,baby powder and baby socks with matching style for parent. Also a taggie blanket. Then a main topper that ties everything together.
Now on to style that depends on you! What do want? Trucks or tutus, maybe some duckies or a giraffe? Monkeys or owls? ( certain themes may be priced differently ex. disney style)
Just tell me a theme and at two colors that you want to coordinate.
Please let me know what you want, either at checkout or in a conversation. This really up to you but for me each diaper cake is an art piece so they can not be recreated or ever the same.
* Huggies Wipes are snuggled in with bottom layer.
*Each Diaper cake at least 80 diapers. ( sometimes I do add more for fullness)
Each layer of cake is wrapped in a decorative ribbon, and stacked on top of each nicely. Each cake will be wrapped in a shrink wrap bag with color coordinated bow to match.
Your not just buying a bag of diapers your buying a gift to honor the parent or parents to be. What better way to show than a custom made cake for there soon new bundle. All products are changeable and due to season may coordinate a little different. These have been a hot handmade commodity for almost six years and just the perfect centerpiece for any baby shower!