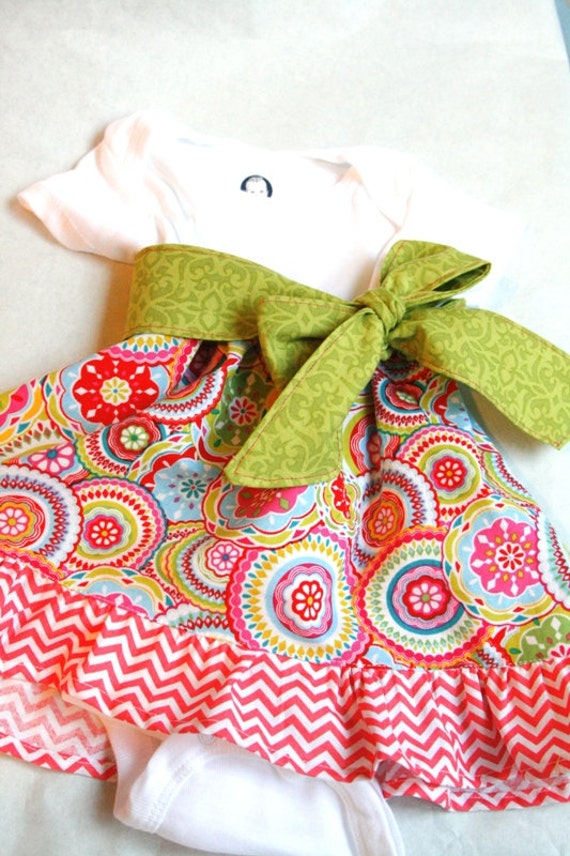 Boutique Baby one piece Dress and Sash: MADE TO ORDER
By EljahB
Product Info
A beautiful dress for your beautiful little girl:) What makes this dress extra special is that you get to choose the fabrics for the dress and sash accessory. You have the vision for color and style, and I'll make it happen to create your customized gift.
This bodysuit dress is unique because the onesie itself has not been cut to create the dress. The dress skirt is carefully sewn directly onto the onesie. This prevents the skirt from riding up or down when your little one is on the move. A sewn elastic band within the dress provides a comfortable stretch as your little one grows. The soft onesie fabric will be against the skin of your little girl instead of a bulky seam.
Your custom dress comes with a coordinating sash. The sash is not sewn on for a very important reason; it allows more versatility.
A darling bow can be tied in the front or back, or the dress can be worn without a sash. If you would like, I can sew the sash in place if you know that you would like your bow to be permanently in the front or in the back.
I use a white Gerber or Circo one piece, which are 100% cotton.
************ADD an APPLIQUE*****************
If you would like me to add an applique of an image or letter on the chest of the dress, please let me know during checkout. I hand draw, cut, and then fuse the image/letter to the dress. I carefully stitch around the image/letter to ensure durability.
***********MATCHING HEADBAND*************
Complete the outfit with a matching headband. Purchase the headband at the link below. I will make sure your headband coordinates and utilizes the fabrics from your dress.
http://www.etsy.com/listing/55564735/flower-headband-to-match-custom-onesie
WHEN YOU CHECK OUT:
Please specify sizes in a message at checkout.
Give me an idea of a color scheme you have in mind
Provide any other details that may help me gather fabrics to suit your vision
Dress sizes:
0-3
3-6
6-9
9-12
12-18
18-24
************SHIPPING: I use Priority shipping along with a tracking number to ensure your custom piece arrives safely and promptly.***********************
Thank you so much for looking!
I hope to be working with you to make your vision a reality)