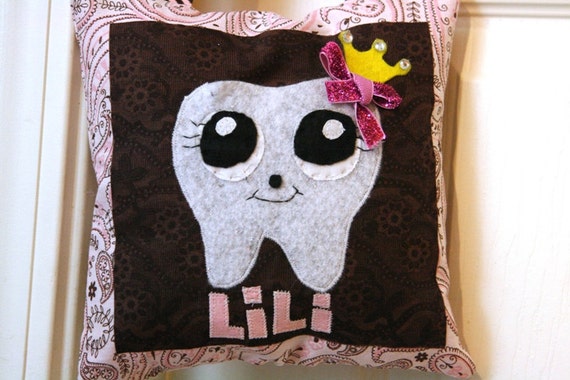 Tooth Pillow, Customized : Made to Order
By EljahB
Product Info
The Tooth Fairy will not forget to stop by with this adorable pillow:) It hangs on a door knob to show everyone the big news!!
MORE ABOUT THIS ITEM:
This pillow is machine and hand detailed.
*everything fabric or felt is secured with machine stitching or hand stitching
* pillow is 7.5 x 7.5 inches. (19.1 cm x19.1 cm)
* 18inches (45.7 cm) of ribbon on either side to tie a bow
* tooth is a pocket made of sparkly white felt
*block font used
*personalize with a name at the bottom
*customize fabric with your personal color scheme
*adorable eyes and cute smile to greet others
GIRL VERSION:
has a yellow crown with rhinestones and a bow in a coordinating color
BOY VERSION:
you have a choice. Bow tie or just plain. Please let me know in a message at checkout which one you would like.
Thank you for stopping by!