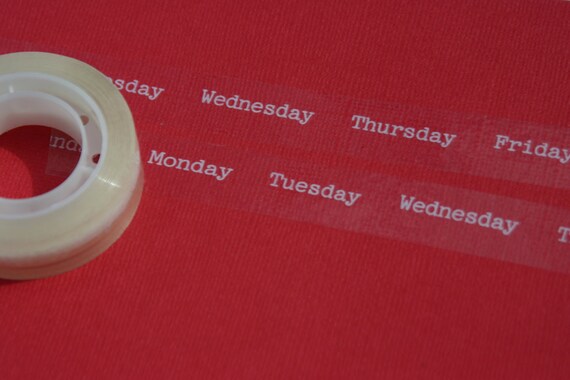 Day of the Week Clear Tape Roll - Monday thru Sunday - Deco Tape
By StickerStop
Product Info
Every crafter needs a roll of this tape! It is a clear plastic tape with the days of the week printed in a white typewriter font.
This listing is for one roll of tape that is 15mm wide and 15m long.
You can mix this with some washi tapes and stickers to add more color or stick it to a pattern or solid background paper for more options. You can also stick this to glass - since it is clear you only see the image of the words.
I find this tape essential for my Project Life journaling cards - I just circle the day of the week I am writing about and it is a great embellishment. I also like to put a strip of these in my journal so I can indicate what day I am on and add a little fun to my plain book. Since it is clear, you can really add it to anything as long as it isn't a white background! :)
Please keep in mind - all of my products ship from the US...expect a 2 to 3 day delivery in the US. :)