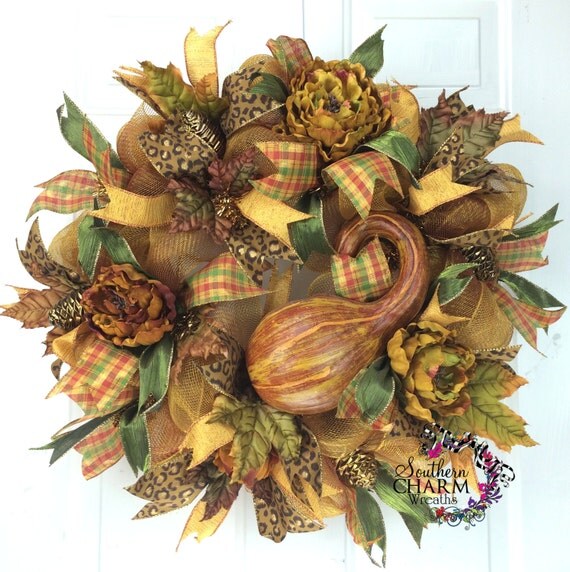 Deco Mesh Fall Wreath, Fall Mesh Wreath, Fall Decor, Fall Door Wreath, Outdoor Wreath, Bronze, Gold, Moss, Gourd Wreath
By Southern Charm Wreaths
Product Info
Beautiful deco mesh fall wreath to welcome your guests this fall in the warm colors of bronze, gold, and moss green. A large gold and burnt orange gourd is the focal point of this wreath.
The deco mesh is a bronze/gold color. The ribbons consist of a 2.5" cheetah print, a 2.5" plaid print in the colors of orange, gold and moss green, a 1.5" gold ribbon and a 1.5" shimmery moss green ribbon. All the ribbons are wired and can be reshaped if needed, which come in handy on those windy days.
The other elements in this wreath consist of a large burnt orange gourd, peonies in the colors of burnt orange and golden yellows, pine cone ornaments, and fall leaves in the colors of moss green and orange scattered throughout.
This wreath is made on a 20" bronze metallic wired wreath frame and the finished wreath measures 20" x 20" x 8" deep.
All my wreaths make great gifts! If you wish to purchase this wreath as a gift, I will be happy to include a hand-written card to the recipient which adds that personal touch.
Want to learn to make your own festive deco mesh wreaths? Learn more here: http://www.etsy.com/listing/83724559/diy-deco-mesh-wreath-design-bundle
For a list of my other fall wreaths for sale visit here: http://etsy.me/1GFzy0u
Please remember my wreaths sell very fast! I don't always have enough supplies to remake them so don't delay in getting yours NOW!
Follow the Wreathing Fun:
❤ Free Gift: http://makewreaths.com/ebookfunnel/free-gift/
❤ Free How To: http://southerncharmwreaths.com/free-how-to
❤ Buy a How-To Video: http://makewreaths.com/videos/
❤ Blog: http://southerncharmwreaths.com/blog/
❤ Facebook: https://www.facebook.com/southerncharmwreaths
❤ Twitter: https://twitter.com/southernwreaths
❤ Instagram: http://instagram.com/southerncharmwreaths
❤ Youtube: http://youtube.com/southerncharmwreaths
Deco Mesh Fall Wreath, Fall Mesh Wreath, Fall Decor, Fall Door Wreath, Outdoor Wreath, Bronze, Gold, Moss, Gourd Wreath - #090914DM1