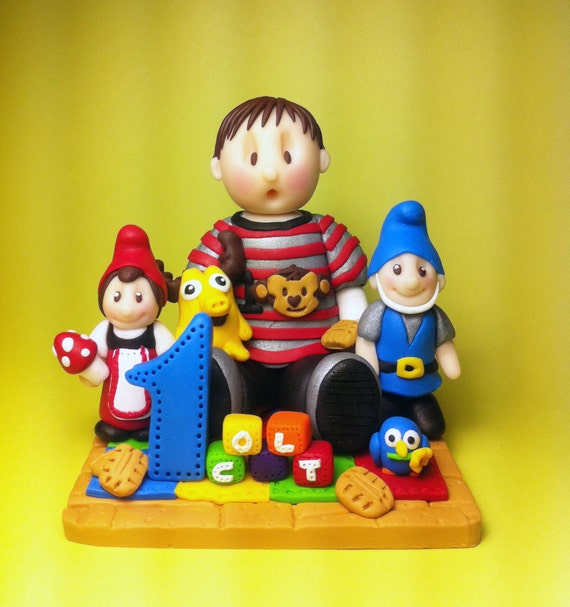 DEPOSIT - Children Custom Party First Birthday Cake Topper
By missNatch
Product Info
*** PLEASE CONVO ME BEFORE PLACING YOUR CUSTOM ORDER ***
This listing is for DEPOSIT ONLY, please read all this information before you order.
IMPORTANT NOTE
Each cake topper is custom made to order, I take limited number of orders each month. Due to the high demand for my cake toppers, I have 3-4 months waiting list.
I need time to review and process your order. It may take 4-5 days for me to get your message/email back to you. Sorry, didn't mean to ignore you but I am working solo and super duper busy in my studio to finish all orders on weekdays. I am not working on weekends.
Your cake topper will be made and dispatched 4-5 weeks before your event date. Orders can be taken a year in advance, but still the item won't be dispatched until near to the event date. I will try my best to accommodate your order, just contact me to discuss the situation.
The topper stands approx. 2.5" - 3" (6.5 cm - 7.5cm) tall, with 2.5" (6.5cm) width base.
Weigh about 150-250 grams (5 - 9 ounces), but may vary depends on your design.
All figurines are handmade from non-toxic durable polymer clay.
PRICE
The basic cost of the cake topper is ﹩60.
The price may vary based on your design.
Additional items can be added with extra charges:
♥ Baby/Children - $ 35 each person
♥ Small Animal - ﹩15 each animal
♥ Big Animal - ﹩35 each animal
♥ Wedding Arch - ﹩25
♥ Bicycle/motorbike/car/boat/other props - ﹩40-45 per item
♥ Name/Date plate - $5
♥ Bunting/Flag/Banner - $5
♥ Cartoon Character - ﹩5 per character
♥ Hat/Cowboy Hat - $ 3
♥ Others - price depends on difficulty of items
HOW TO ORDER
- Convo/Email me for the availability and please provide this details in your message
♥ Wedding/Birthday/Event/Travel Date
♥ Theme and color (or design you like from my previous work)
♥ Outfit & Shoes (model & color) - Top, Bottom, Shirt, Skirt, Dress, Uniform, Cosplay
♥ Hair, Hair model, Hairpiece & Eyes Colour
♥ Base color/model
♥ Details of your bicycle/motorbike/car/boat/other props (model & color) - IF ANY
♥ Pet(s) - Breed, color, size - IF ANY
♥ Additional details or favorite items you would like to add - IF ANY
♥ Smiley or surprise face
♥ Choose Regular or Registered shipping when you pay this deposit
- The deposit $ 30 needed, to confirm your order and book the schedule
- You can use any birthday link in my shop to pay your deposit
- Please send me your pictures details to: missnatch.etsy@gmail.com
- Please order at least 3 months in advance to ensure timely delivery and to avoid any postal delays
- The final picture of your topper will be sent for approval before the bake
SHIPPING - WORLDWIDE
Regular shipping (no track and trace) costs $25
Registered shipping (with track and trace) costs $35
Express shipping costs $95
Please allow UP to 4 weeks for international shipping, depends on your country's customs regulation.
You can browse my previous works on flickr: http://www.flickr.com/photos/missnatch/
MY SHOP POLICY
http://www.etsy.com/shop/missnatch/policy
Thank you for visiting my shop.
♥ Nat ♥