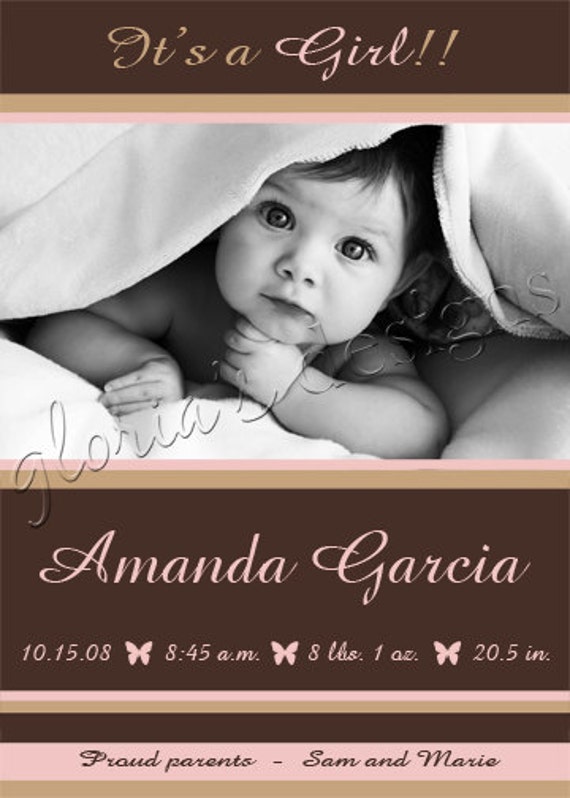 Product Info
All the Style, all the Quality, at a great price.
Free Retouching and Enhancement of your images, Digital Proof of your Card, so that means no shipping for you and fast delivery! Print them at home. Print as many as you like! Unlimited!
Don't have enough time to mail them?
Digital Birth Announcements are great to send via email!
Welcome to gloria's DigiCards! I specialize in unique, modern baby announcements, baby shower
invitations, kid birthday cards and save the date cards which can all be customized until you love it! All of my cards are my own designs.
My card designs are personalized with your photograph (if applicable) and wording, and then sent to you via email as a high resolution (300 dpi) pdf and jpeg format file, so you can send it to any printer of your choice! You can also choose other color options at no additional charge. Color photographs can be changed to black and white or Sepia.
Visit my shop at http://gloriasdigicards.etsy.com to view all my designs. I am adding many new cards, so check back often.
How to Order:
❤ Browse through my wide selection of Card Designs to find the one that's perfect for your taste and needs. Purchase this card listing with Pay Pal. Request a 4 x 6 or 5 x 7 card (You may also request a different card size).

❤ You will be able to request changes or customization to your Design if you like - your card doesn't have to match my design exactly, so feel free to request any changes to phrasing, fonts, colors, etc., when ordering. Request color scheme (if different from listed sample card) Desired wording (depending on card—Names, Date, Time, Weight and Length, RSVP Information etc...)
❤ Email your high resolution image(s) (jpeg digital file) to gloriasdigicards@hotmail.com. Please take a moment to review my Photo Info & Tips, to help you achieve the best possible quality in your images.
❤ A digital Proof of your Card will be supplied to you within 1-2 business days.

❤ Request any changes you would like to see, and I'll supply you with a revised Proof to review. There is no limit to the number of revisions you may request - I will continue to make changes and supply you with revised Proofs, until you are 100% happy with your Design.

❤ Once approved in writing, you will receive your digitally high resolution (300 dpi) file within 24 hours to the e-mail address you provide me. Then, you can upload your file to any online printing lab, photo processor, professional printer, place on a drive or burn to a CD. Wow! So much flexibility. You own the file!
You acknowledge that you are responsible for the photographs and information that you
submit to gloria's DigiCards. This means that you have full responsibility for the message, including
its legality, reliability, appropriateness, originality, and copyright.
All content from gloria's DigiCards are the proprietary property of gloria's DigiCards with all rights reserved.
No content may be modified, sold in any form or by any means, in whole or in part, without
gloria's DigiCards prior written permission.
If you have any questions about the ordering or proofing process, please contact me a gloriasdigicards@hotmail.com
Make sure to visit me at www.gloriasdigicards.com
Thank you from gloria's DigiCards!