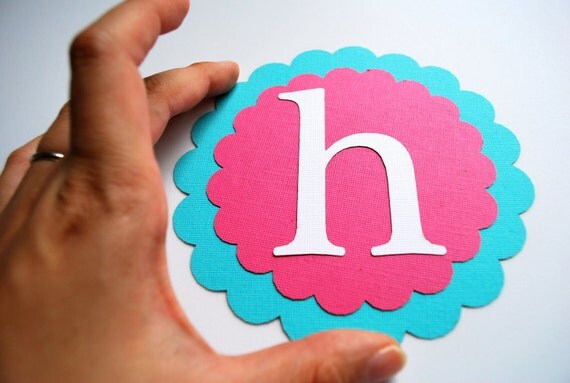 Diy banner Kit , DIY Happy Birthday Banner Set, Ready to Build Banner Turquoise and Hot Pink Banner A236
By MariaPalito
Product Info
MariaPalito is going on Vacation!!! After a long and busy year, MariaPalito is taking some days off to recharge and rest. Please be aware ALL orders placed within DECEMBER 15th and JANUARY 6th will start being processed on JANUARY 6th in the same order they were received; that means, shipping will resume around JANUARY 7th and so forth.
I will keep receiving CUSTOM ORDER for JANUARY delivery.
If you have ANY questions, please be aware I will be on limited connectivity so I may take a couple days to answer but be patient.
-------------------------------------------------------------------------------
Banner supplies, Make your Own Happy Birthday Banner Set . DIY make your own banner using this ready to build Banner. They bring the holes so it will be so easy to finish your banner !!! Be Creative as you wish, your imagination is the limit!!!! You'll love the perfect cut, the lovely texture and how easy they are to use.
This set includes :
14 Turquoise Big Scalloped circles ( 5.0 inches)
14 Hot pink scalloped circles (4.0 inches)
happy birthday (lower case) die cut letters in white Textured cardstock, Plantagenet Cherokee
All my die cuts are cut from premium 80lb. cardstock. If you are looking for these in a different color, size or quantity just contact me with the details of your special custom order and I will happily discuss options and pricing with you.
You can use my die cuts for DIY projects, card making, tags, labels, invitations, favors, stamping, and scrapbooking or for your next party. ! Be Creative as you wish, I am pretty sure you will love the perfect cut, the lovely texture and how easy they are to use. Also I am very proud of offering a very quick turn around.
I would love to hear from you, Contact me if you have questions, requests or any comment about my products. Be sure to see more of my work and items at http://mariapalito.etsy.com/.