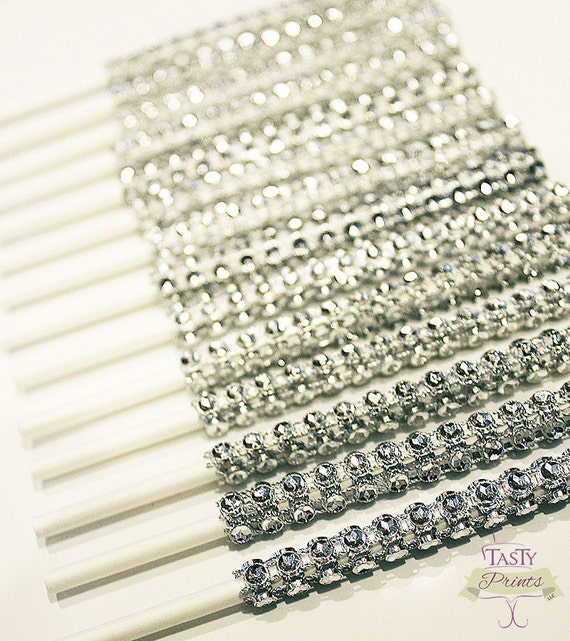 DIY 24 Sparkle Cake Pop Sticks Supplies - Make your own Bling Sticks for Cake Pops - Metallic silver - Decorative Treat Sticks
By Tasty Prints
Product Info
Make your own Bling sticks for cake pops! Perfect for New Year's Eve! Say good bye to boring white cake pop sticks and hello to BLING! Ideal for wedding favors, masquerade parties, evening events and more! These metallic silver sparkling beauties are the perfect compliment to any edible yummy on a stick!
You will receive 24 pcs 4.5" long white paper cake pop sticks and 24 pieces of silver 3 1/4" long by 3/4" wide pieces of bling mesh. You will need to secure the bling mesh to the cake pop stick with hot glue. This is a DIY project. The bling sticks are not pre-assembled.
Additional items needed for this project:
Hot glue gun and hot glue sticks.~
Here is how to make a bling cake pop stick
Directions:
Work on a clean heat resistant surface that hot glue drippings will not harm. Be very careful when working with hot glue. Lay the bling mesh so the shiny surface is facing down. Then apply a thin line of hot glue along one long side of the mesh. Place the white paper stick in the hot glue aligning the edge of the stick with the edge of the mesh. Push down firmly and wait a second for the glue to set. Next apply additional hot glue on the other long edge and the two short sides of the mesh. Carefully roll stick and apply the mesh. You are done! Bling mesh is easily trimmed with scissors if needed prior to being glued in place.
Please note that these sticks and the decor are not edible. *Also, the shimmer is created from a super sparkley material, not stones of any sort. Sticks are for a single use. Keep bling sticks away from heat.
www.etsy.com/shop/TastyPrints creates a wide variety of edible decor.