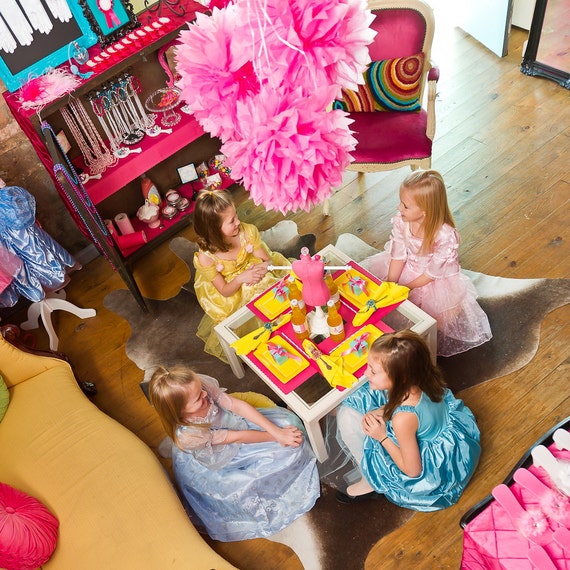 Dress-Up Party Kit: A Complete Birthday Party in a Box for 8 Kids Delivered to Your Door + 10% off Party Supplies Coupon
By Double the Fun Parties
Product Info
What girl doesn't love playing dress-up? Our Dress-Up Party lets your guests:
- Play dress-up with loads of fabulous accessories
- Put on a fashion show
- Make a sugar scrub for soft hands
- Bead "bubblegum" necklaces designed just for this party
- Design their own "dresses" with tulle (like the bridal shower game of making "bridal gowns" from toilet paper)
It's like playing dress-up, princess and fashion show, all at one party!
Your Dress-Up Party Kit for eight guests includes:
PARTY PLAN
- 60+ page party plan
- Full-color photographs
- Step-by-step instructions for hosting your party
- Please see the Party Plans section of our shop for a complete description
PLACE SETTINGS
- Hot pink scalloped paper place mats (8)
- Yellow, rectangular, lunch-size paper plates (8)
- Yellow fabric napkins, 17" x 17" (8)
- Turquoise "jewel" napkin rings (8)
- Pink striped paper straws (8)
FAVORS
- Tiffany-style boxes with pink crinkle fill and pink ribbon for bows (8)
- Hand-made rings (8)
- Pink "felted" sacks with turquoise ribbon trim, and white silk flower (8)
- Award ribbons (8)
ACTIVITIES
- Canning jars for making sugar scrub (8)
- Rolls of tulle in shades of pink (4)
- Necklace kits designed just for this party by Daizy Bugz (8)
DRESS-UP ACCESSORIES
- Pearl style necklaces (12)
- Pink necklaces (12)
- Bracelets (12)
- Earrings (8)
- Jumbo-size rings (12)
- Wrist-length, maribou-trimmed gloves (8)
- Pink and white feather boas (8)
MORE PHOTOS
To see the party in action, visit our blog:
https://doublefunparties.com/2013/01/14/our-parties-dress-up-birthday-party/
CUSTOM KITS
We are happy to customize a kit for you! If you want different components, or additional items, just send me a convo.
TIMING
Please allow at least three weeks for us to assemble, create and ship your party to you.
SHIPPING
Please note that this is a large and heavy package. Your shipping will be calculated based on the contents of your kit and your location and may differ from the price quoted.
COUPON
When you purchase from Double the Fun Parties, I'll send you a thank you coupon for 10% off Bird's Party Shop -- a great place to find all your party supplies, party decorations, party tableware, cupcake supplies and cute party favors and packaging!