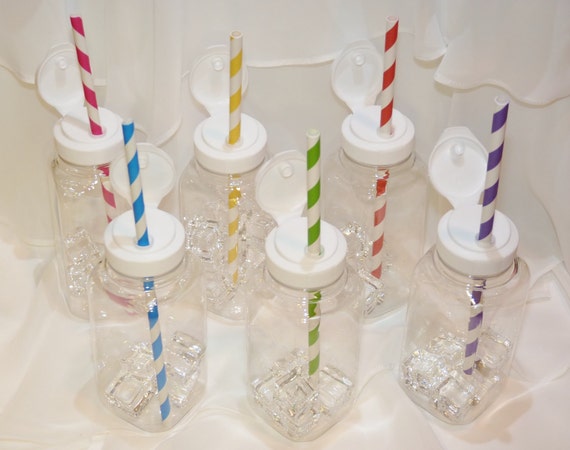 Drink Bottles w- NO SPILL LiDs 20 with STRAW Holes 20 Clear Milk / Drink Beverage Bottles ( 8 oz Small Square ) Flip ToP Lids- StRaW HoLe
By Lola's FaNcY Party Shop
Product Info
FLIP-TOP LIDS/ with Self Sealing (peel off) Seal...
to keep your Beverages Fresh till Ready To Serve . & Straw Holes too !!!____
Set Of 20 BOTTLES , LIDS and FREE Color self adhesive labels !
Simply twit on the flip cap and the inner Foam Liner will SEAL The Bottle untill it's ready to Open & Enjoy!....
then just Toss Away and INSERT STRAW in the "PERFECTLY SIZED" Hole in lid and ...
TA DAH !_____ NO SPILL ! NO WASTE! ROAD TRIP and PaRtY READY !!!!!! :):):)
These are Food Grade / Dairy / Commercial Beverage Supplies... Just as Purchased by Your Favorite "BRAND/ LABEL" Dairy and Drinks in Every Market and Grocery.
NOW Lola has a NEW Twist for YOUR Homemade Beverages / Cocktails and Food Items.
***FREE LABELS PICTURED Are Included Your Choice Of CoLoRs **"IN -STOCK"**
BLACK Sent as Default if Out of Stock in Color noted in sale
Small Square Bottle measures:
2 3/4" Square dia. X 5 1/4" tall ***NO DISHWASER***
..
Our milk bottles are made of clear food safe plastic.
Lightweight and user friendly....:)
Won't have to worry about broken glass at your party.
And the perfect height for our fun paper straws...!!!!
No more length problems.....our paper straws fit right inside with enough room to poke out for sipping and using with our Straw Flags.
These cute little bottles hold 8 ounces of your favorite beverage
Measures: 2 3/4" square dia. X 5 1/4" tall
Food safe crystal clear plastic
---NOTE------Other items shown in pictures ARE NOT INCLUDED with this listing
*******************NOTE: PLEASE READ SHIPPING INFO *******************