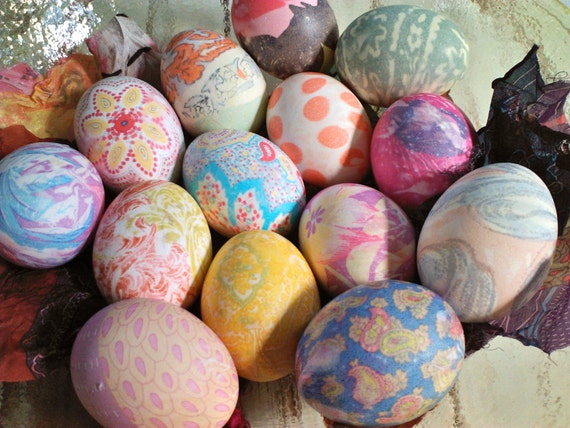 Easter Egg Silk Dye Kit- Eco Friendly Up-cycled kid friendly DIY Gift FAMILY SIZE- 18 piece
By BooBahBlue
Product Info
Gorgeous Silk dyed eggs from up-cycled silk scraps.
I have done all the work of finding and cutting...now all you have to do is wrap up your eggs!
Silk fabric cut from old ties, dresses and scarfs can turn your eggs in to wonderful surprises of color and pattern! The silk can be reused many times, in fact the photos show are the second run of the same pieces...just as pretty as the first time! The detail from some silks just amazes me. I am addicted to seeing how each fabric will come out....not always what you expect :)
The photos are a sample of what you may receive, but each kit is different.
All kits contain a variety of colors and patterns, no 2 silk pieces will be the same in a kit and I try not to have 2 of the same color, so there is a wide variety.
These eggs are fun and easy to make, not just for Easter, but any time.
Family Size kits includes:
18 different pieces of silk material fit for an egg
18 cotton cloth wraps
18 twisty ties
Easy to follow Instructions
*Sweet gift boxes, the perfect size for egg kit: https://www.etsy.com/listing/126946235/gift-box-recycled-cardboard-with-lace
You will need a large pot, white vinegar, water and a colander. For the best transfer of color, wrap the silks as smoothly and tightly to the egg as possible....it only transfer pattern and color where its toughing the egg. Wrap the white cloth tightly to secure the silks agains the egg. Boil, cool and unwrap! Keepsakes to last forever if you choose, or eat them all up!
TIPS:
make sure you note the dyed side of the silk (the brighter side), then wet the silk before wrapping the egg. Wrap the egg completely, making at least one side if not more, completely smooth so you get a really great transfer. You don't need to have the silk included in the twisty tie, just the white fabric, and its easier to get the white fabric on tightly if the silk is around the egg and not included in the bunch the twisty goes around.
MYTHS?
Its said, the longer you boil, the darker the colors, although I have boiled silk eggs for 40 minutes (not eating those) and I boiled others for 20 minutes and they came out just as lovely. I have used both stainless steel and enamel pots....I don't see much a difference there either.
*Even the best of silks can sometimes turn out to be duds. If you don't get the color you were hoping for, it can still be dyed again. Remember to save your silks and cotton clothes to be used again! I think you can safely get 3 dyes out of each piece. Have fun!
Instructions are simple and easy to follow, even for kids. Wonderful surprises wait in each bundle!
Check out my shops main page: www.etsy.com/shop/boobahblue