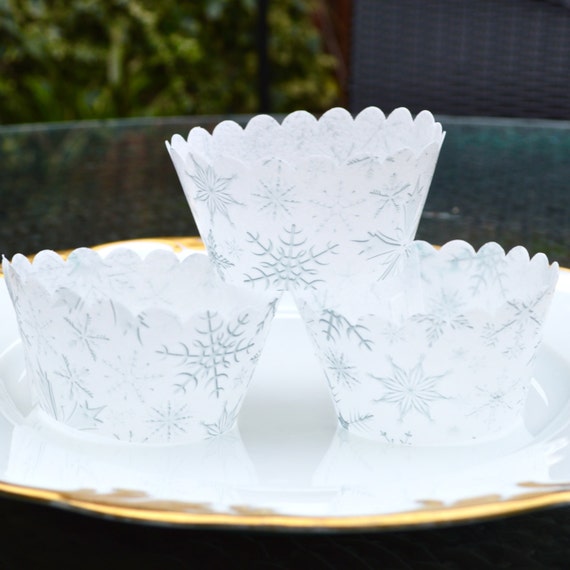 Edible Cupcake Wrappers Snowflakes Winter Silver x 12 Edible Wafer Paper Winter Frozen Snow Icy Christmas Cake Cupcake Cases Wedding Xmas
By Wickstead's Eat Me
Product Info
*ღ* This listing is a Pre-Order only, the week you choose from the drop down menu will be the week your order will be sent (dispatched), not when it will be received. Shipping times still apply once dispatched (please see below for more details) *ღ*
Wickstead's
********
Eat Me
****
Edible Cupcake Wrappers in our Snowflakes Winter Silver Pattern.
Silvery Snowflakes on a White Background
Set of 12
These are Perfect for a Frozen Icy Snowy Winter
Yes these Cupcake Wrappers really are 100% Edible
Instructions are included on how to use these delicious wrappers.
Our edibles are perfect to finish off your Cakes, Cupcakes & Biscuits they will just grab your friends & families attention & just call to them... "Eat Me"
Cupcake Wrapper Size:
7.5cm - Diameter on Top
4.8cm - Diameter on Bottom
4.1cm - Height
*****ღ******ღ*****ღ*****ღ*****ღ*****ღ****
*********************************************
You will receive:
*12 x Edible Cupcake Wrappers in our Snowflakes Winter Silver pattern made up & ready to use.
(see measurements above)
*These will come Pre-Cut & made up ready for you to use with your own cupcakes/creations and sealed in an airtight container for freshness.
*They come with instructions on how to use.
*Our Edible Cupcake Wrappers are made using a softly Vanilla Flavoured Wafer Rice Paper
*The Snowflakes Frozen Ice Pattern layout may vary on each Cupcake Wrapper.
Also included for FREE are:
*12 x white edible circle discs to fit your cupcake cases.
*12 x plain white cupcake cases to bake in (non edible)
The Vanilla flavouring gives a slightly sweetened taste which is so subtle that it only complements the taste of the food that you are placing them on. Both sweet and savoury food. We have found that our buyers prefer it.
If you would like unflavoured please contact us for more details.
*****ღ******ღ*****ღ*****ღ*****ღ*****ღ****
*********************************************
Snowflakes Winter Gold Ice Cupcake Wrappers:
www.etsy.com/uk/listing/252702614/edible-cupcake-wrappers-snowflakes
Snowflakes Silver Crystal Ice Cupcake Wrappers:
www.etsy.com/uk/listing/253421189/edible-cupcake-wrappers-snowflakes
Top with our Edible Snowflakes:
www.etsy.com/uk/shop/WicksteadsEatMe/search?search_query=snowflakes
*****ღ******ღ*****ღ*****ღ*****ღ*****ღ****
*********************************************
Feathers, Teepee's, Dreamcatchers & Boho:
www.etsy.com/uk/shop/WicksteadsEatMe?section_id=18744024
3D Butterflies & Designs:
www.etsy.com/uk/shop/WicksteadsEatMe?section_id=15354383
3D Flowers, Crowns & Tiaras:
www.etsy.com/uk/shop/WicksteadsEatMe?section_id=15356394
Leaves Autumn Wildlife:
www.etsy.com/uk/shop/WicksteadsEatMe?section_id=18747481
Afternoon Tea with Alice:
www.etsy.com/uk/shop/WicksteadsEatMe/items?section_id=15356402
100% Edible Cupcake Wrappers:
https://www.etsy.com/uk/shop/WicksteadsEatMe?section_id=15354393
Wickstead's Eat Me Shop:
www.etsy.com/uk/shop/WicksteadsEatMe
*****ღ******ღ*****ღ*****ღ*****ღ*****ღ****
*********************************************