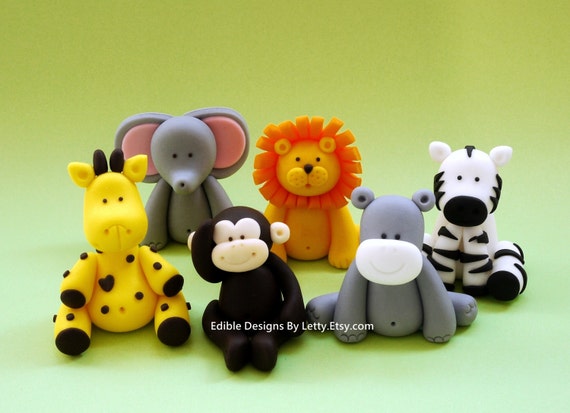 Product Info
❤ Current availability ❤
~ I am booked through Jan 15th
~ Orders for event after Jan 15th are welcome
~ Rush order require confirmation before purchase
=========================================
Perfect for Jungle / Safari themed party ! They can be used on cupcakes or cake.
Please choose 6 animals from the following :
1 Monkey (approx. 2.25" tall)
1 Elephant (approx. 2.25" tall)
1 Giraffe (approx. 2.5" tall)
1 Zebra (approx. 2.25" tall)
1 Hippo (approx. 2.25" tall)
1 Tiger (approx. 2.25" tall)
1 Lion (approx. 2.5" tall)
If you want to add party hat $1 each, please contact me to create a listing for you.
Visit my Facebook page for the latest creation and promotion !!
http://www.facebook.com/EdibleDesignsByLetty
**********************************************************
Kindly include this list in the box "Note to EdibleDesignsByLetty" when you checkout
1. Animals of your choice
2. Elephant's ear with pink? YES / NO
3. Lion's mane color? BROWN / ORANGE
===================
Important Information
===================
~ Order Lead time: Please refer to the shop announcement for current availability. I would recommend ordering at least 1-2 months before your event.
~ Shipping: USPS Priority Mail. Shipment date is 9-12 postal business days before your event date, please refer to the shop policies for details.
~ Store: Fondant toppers should be stored in a cool dry place, out of direct sunlight/light until use. DO NOT keep the toppers in the refrigerator / freezer. Instruction will be included in the package.
~ Customized colors: Yes, if you would like to have different colors, please specify in the message box at checkout.
~ Topper has supporting material (toothpicks/cocktail sticks/lollipop sticks) to hold the parts, joints and head, please remove them before consume.
Thank you again for visiting !
Letty