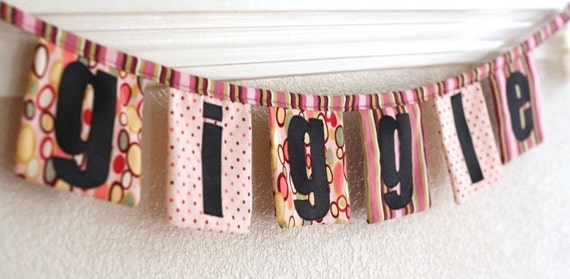 Giggle banner decoration: Made to Order
By EljahB
Product Info
GIGGLE....encourages you to smile and enjoy the smallest things in life. Also, you can't beat the giggles from a little one. They are magical:)
You can customize the colors. Choose a color scheme from the menu and I will provide fabrics in that palette for you to choose from.
WHAT DO YOU GET WITH YOUR PURCHASE?
*Eco-friendly, reusable banner for year after year
*100% high quality designer fabric in front and back (not felt, muslin, or broadcloth)
*double layer fabric to provide weight so it hangs nicely
*finished edges on each block
*blocks have the same fabric in front and back or of the same collection providing two sides of decor
*bold, hand--traced and cut out lettering
*letters securely fused to fabric
*beautiful color combinations
*unique banner; banners are never the same
*CUSTOM…I can do any name, word, or saying you would like
*handmade with love and care; if I wouldn't hang it in my house, I don't post it!
This GIGGLE decor banner measures 5ft 4 inches from end to end. Each side has about 1 ½ foot of hanging, hand-made bias tape (string). This allows flexibility with where you can hang it. You can tie it to a structure or hang it on a wall with tacks.
Each block measures 4.5 X 4 inches and is spaced apart by ~ 1 inches. The letters are black, bold and clearly visible from a distance. The lettering is hand traced and cut. It is adhered to the fabric using fusible web.
The banner is made from 100% high quality designer fabric. You will choose the color scheme.
What is special about this banner is that both sides are made from the same fabric or from the same collection, therefore, it allows the backing fabric to remain a beautiful collage of colors if hanging in a door way and visible from both sides. It provides extra decoration!! The double layers of fabric provide weight and give the banner a beautifully finished look.
COPYRIGHT: This artwork is protected under copyright law and may not be reproduced in any manner without my express written permission.
Thank you for looking!