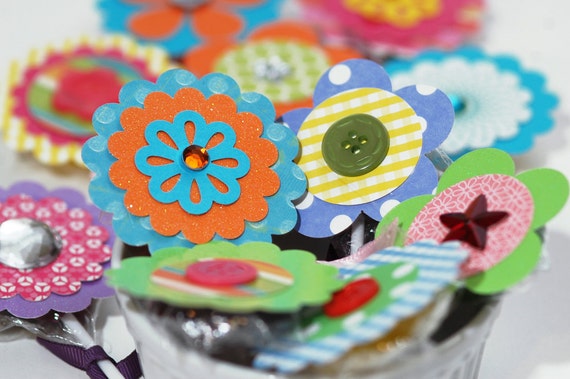 Product Info
Yum Yum in the Tum!
These are great Bright and Summery Lollipop Favors!
This set of 12 Lollipops are ready to ship and they are $1.75 each. Need a different color scheme or quantity? Or I can create a custom set for you!
These lollipops make perfect birthday party favors for kids. They are also wonderful for a baby shower or a bridal shower or as wedding favors. They can be elegantly designed with floral sprigs in delicate flowers in ivory, gray, and black or specific to your wedding colors. They would be perfect at at child's table at a wedding too! I can also tailor them to any holiday such as Christmas, Halloween, Easter, or Valentine's Day! I can make them in any colors, add printed text or monogram letters to the front. They are fun for any type of event such as a retirement party, a graduation, a pool party, a little girl's tea party, a BBQ, or any celebration.
I can create as many of these lollipop favors as you need in any style or color requested. They can be embossed and I can add more layers of flowers or leaf sprigs and embellishments or double layers of coordinating solid or designer pattern paper.
Prices below, come as two layers of flowers in your choice of colors with buttons and coordinating solid knotted ribbon on sticks.
These do come with the individually wrapped flat lollipops pictured.
Need a Custom Design...If you can dream it, I can make it!
I can take custom orders of this design or any theme or design you would like and in your requested colors, and a minimum of 20 in quantity is required. Payment in full and in advance is required for custom orders and are completed and mailed within 5 business days from date of payment. On custom favor orders, a few samples are created and a photo is emailed to you for your final approval before the order is completed and shipped.
Lollipop Favors:
20 large flower lollipop favors ($1.75 ea. x 20)=$35.00
30 large flower lollipop favors ($1.75 ea. x 30)=$52.50
40 large flower lollipop favors ($1.75 ea. x 40)=$70.00
50 large flower lollipop favors ($1.75 ea. x 50)=$87.50
Additional Custom Options:
Embossing (raised design in patterns of swirls, dots, flowers, etc.) = $4.00 per every 20
Printing fee for custom printed fronts = $6.00 per every 20 quantity
Hand stamped images = $12.00 per every 20 quantity (includes water-coloring images)
Gems/Jewels, large or small = $5.99 per every 20 quantity
Bows = $5.00 per every 20 quantity
These ship in a small box, USPS Priority.
Larger orders- require six to eight weeks advanced notice and please email me for a price quote for anything over 50 items. Larger orders require a custom shipping quote.