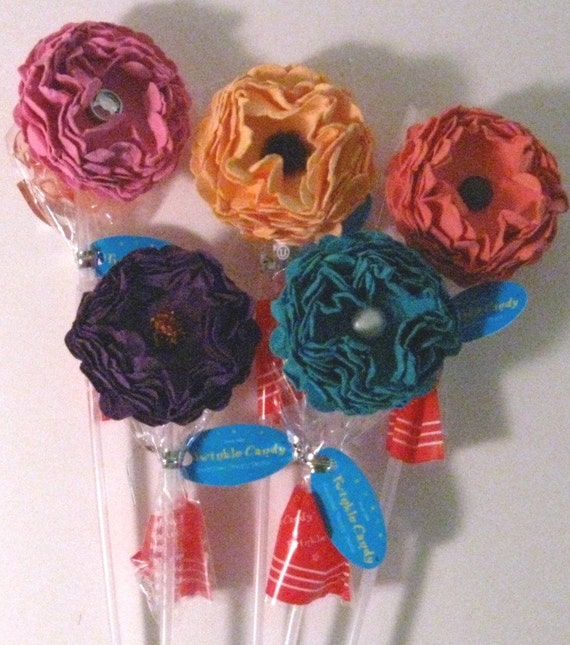 Product Info
These are fun and fancy Floral Lollipop Favors that you can create a floral bouquet centerpiece with at your special celebration. They make perfect birthday party favors in bright colors or I can tailor them to any holiday such as Christmas, Halloween, Easter, or Valentine's Day!
They can also be delicately done in grey and white or cream, or vintage text paper with elegant floral sprigs for baby or bridal showers, graduation, retirement, or as wedding guest favors or any sophisticated event or classic occasion!
I can create as many of these Floral Lollipop Favors as you need in any style or color requested. I can add leaf sprigs or small butterflies and other embellishments for your needs and to compliment your event!
These do come with the candy pictured (Twinkle Candy Suckers on long clear sticks).
NEED A CUSTOM DESIGN...If you can dream it, I can make it!
I can take custom orders of this design or any theme or design you would like and in your requested colors, and a minimum of 20 in quantity is required. Payment in full and in advance is required for custom orders and are completed and mailed within 5 business days from date of payment. On custom favor orders, one design is completed and a photo is emailed to you for approval.
Prices for custom orders are:
$2.25 each floral lollipop, up to 20 OR
20 floral lollipop favors ($2.15 ea. x 20)=$43.00
30 floral lollipop favors ($1.75 ea. x 30)=$52.50
40 floral lollipop favors ($1.50 ea. x 40)=$60.00
50 floral lollipop favors ($1.25 ea. x 50)=$62.50
Larger orders- require three to four weeks advanced notice and please email me for a price quote for anything over 50 items.