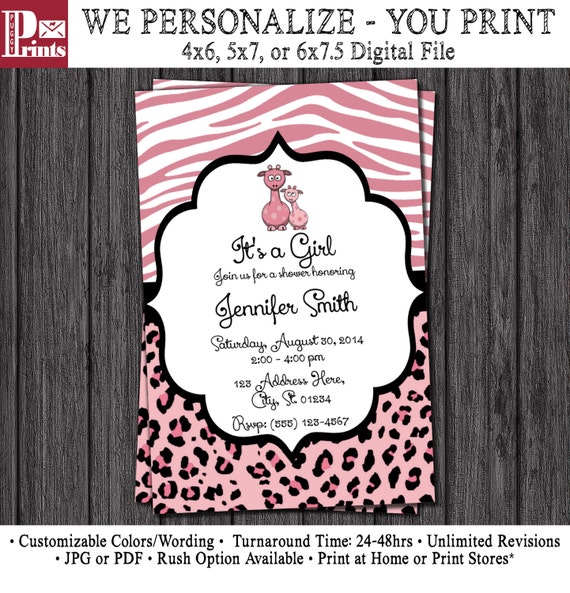 Product Info
We personalize - you print! Before purchasing, please read the entire description below for information on digital files and shop policies. Have questions? Check out our FAQ section below.
♒♒♒ ORDERING PROCESS ♒♒♒
♥ Add Item to Cart
♥ In the cart menu, provide your party details in the "Note to PuggyPrints" box:
╠═ Parent(s) Name on Invitation:
╠═ Event Date:
╠═ Event Time:
╠═ Event Location:
╠═ RSVP Name and Number:
╠═ Registry Information:
╠═ Email Address that the File will be Sent to:
♥ Proceed to Checkout and Submit Payment through PayPal
♒♒♒ FAQs ♒♒♒
1. Do you offer printed services?
☛ Unfortunately, we do not offer printed services. However, the digital file can be printed at home or at stores such as STAPLES, OFFICE DEPOT/MAX, KINKOS, COSTCO, CVS, SAMS, WALGREENS, WALMART, ETC.
2. What is your turnaround time?*
☛ After all the party information and photo (if applicable to design) have been received, the standard turnaround time is 24-48 hours. We offer a rush option where the invitation is emailed under 24 hours of receiving all of the party information/photo. Please make sure you have provided all of the required information and sent the photo (if applicable) to prevent your order from delaying.
3. Do you only accept PayPal? How can I pay with my credit card?
☛ Yes, I only accept PayPal due to budgeting and tax purposes. However, you don't need a PayPal account in order to purchase with your Visa, MasterCard, American Express, or Discover Card. Without creating a PayPal account, there is a guest option during checkout where you can use any of the above payment methods.
4. How much does it cost to make revisions after the file has been sent to me?
☛ Absolutely nothing. With our shop, we offer unlimited revisions so there are no hidden fees tacked on if you need to make changes to your file. Don't like the photo you used? Just email us another one and we'll revise it for you free of cost.
5. Can you change the colors or wording on the invitation to something else I want?
☛ Absolutely! We can change any of the colors or wording to better fit the style of your party, and there are NO fees to change the colors or wording. For available colors, view and print this image of our color swatches: https://img1.etsystatic.com/075/0/9312043/il_fullxfull.807868381_2m09.jpg Let us know the new color choice(s) in the "Note to PuggyPrints" section during checkout.
6. I forgot to give you my information during checkout, what should I do?
☛ No worries, just send all of the details and photo (if applicable) here: https://www.etsy.com/conversations/new?with=puggyprints
7. Can I get a file with two invitations per 11x8.5 page to save money when printing?
☛ Yes, we can provide you a high quality .pdf file that contains 2 invitations per 11x8.5 page. Just send us a message or let us know during checkout.
8. Do you offer refunds?
☛ Because our products are digital, we do NOT offer refunds once the file has been sent. However, if you have a problem with your order, contact us immediately and we will be happy to work with you until your order is perfect.
9. Do I edit the photo and/or event details myself?
☛ Party planning can be very hectic. Thanks to our services, you don't have to worry about self-personalizing. We personalize everything for you and send you the file to print. If you have any changes to your information, just send us a message and we'll revise it for you!
10. What paper do you recommend printing on?
☛ We really like Office Depot's "photo cards" as it has the thickness of cardstock with a finish of matte or glossy. Also, some of our customers like Costco's and Staples' photo cards too. If printing at home, you will need to use white cardstock or photo paper. Every place varies in print quality so it is always good to do a test print before ordering all of your final prints.
11. How do I print at one of your listed print shops?
☛ You will upload the file to a flashdrive (usb drive), sd card, or cd and take the file into the store to make prints. A 4x6 digital file will only print with 4x6 prints, 5x7 with 5x7, etc. If you need a different size than what you ordered, just send us a message so we can revise it for you. If using a mobile device, there are many store apps and websites that let you order prints and send prints to your nearest store. If in doubt, always call your local print shop to ask them which method they prefer.
♒♒♒ List of Recommended Photo/Print Centers ♒♒♒
✔ Staples ✔ Office Depot / Max
✔ Costco ✔ CVS
✔ SAMs ✔ Walgreens
✔ Kinkos ✔ Walmart
✔ Postnet
♒♒♒ Copyright Information ♒♒♒
✒ All graphic arrangements are the property of © 2015 PuggyPrints. Please see the bottom of the preview for copyright specifics regarding the stock photo and clipart used.
✒ Personal Use ONLY. This may NOT be sold, shared, distributed, or used for any commercial purposes.