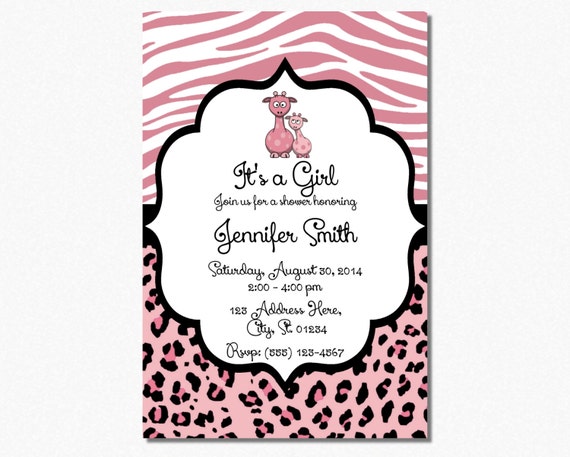 Product Info
Printable Pink and Black "Giraffe" Baby Shower Invitation that will be personalized and emailed to you within 24-48 hours of purchasing. Affordable Price and Fast Service!
▬▬▬▬▬▬▬▬▬▬▬▬▬▬▬▬▬
*-*-*-*-*-*-*PLEASE READ*-*-*-*-*-*-*
✿ This is a printable invitation that is emailed as a high resolution .jpg (photo) file.
✿ Digital File ONLY - No product will be shipped through a postal service.
✿ All information will be personalized for you.
✿ I do NOT charge fees to make revisions before or after the file has been emailed.
✿ The file is NOT self-editable. Only PuggyPrints is authorized to edit the content.
✿ Files can be printed at home or at print centers (see List of Photo/Print Centers)
✿ Refunds are not accepted, but I'm willing to work with you if you have problems.
▬▬▬▬▬▬▬▬▬▬▬▬▬▬▬▬▬
*-*-*-*ORDERING PROCESS *-*-*-*
♥ Add Item to Cart
♥ Provide the following party details in the "Note to PuggyPrints" box:
╠═ Parent(s) Name on Invitation:
╠═ Event Date:
╠═ Event Time:
╠═ Event Location:
╠═ RSVP Name and Number:
╠═ Registry Information:
╠═ Email Address that the File will be Sent to:
♥ Proceed to Checkout and Submit Payment through PayPal
▬▬▬▬▬▬▬▬▬▬▬▬▬▬▬▬▬
*-*-*-*Downloading & Printing*-*-*-*
✿ Within 24-48 hours or purchasing, you will receive an email containing the digital file.
✿ You can download the file to your computer, flashdrive (usb drive), sd card, or cd.
✿ You can print unlimited copies at home or at a print center (see List of Photo/Print Centers)
✿ A 4x6 digital file will only print with 4x6 prints, 5x7 with 5x7, etc.
✿ Every printer varies in color/brightness, so doing a test print is strongly advised.
✿ Please check the printer's requirements for crop/bleed marks and specific dimensions.
✿ Message me if your printer or print center requires a different size or crop/bleed marks.
▬▬▬▬▬▬▬▬▬▬▬▬▬▬▬▬▬
*-*-*List of Photo/Print Centers*-*-*
✔ Staples ✔ Office Depot / Max
✔ Costco ✔ CVS
✔ SAMs ✔ Walgreens
✔ Kinkos ✔ Walmart
✔ Postnet
▬▬▬▬▬▬▬▬▬▬▬▬▬▬▬▬▬
*-*-*-*-*Copyright Information*-*-*-*-*
✒ All graphic arrangements are property of © 2015 PuggyPrints.
✒ Personal Use ONLY
✒ This may NOT be sold, shared, distributed, or used for any commercial purposes.