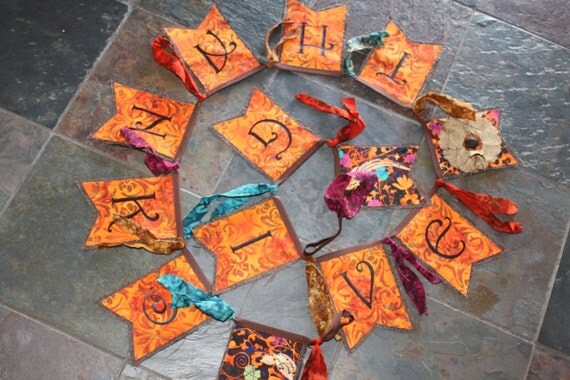 Product Info
At over 7 feet long, this Give Thanks banner in rich, autumnal colors is ready to add seasonal beautify to your home, office, or event.
Dovetail pennants are cut from poly burlap in walnut brown and layered with gorgeous, brilliant cotton fabrics. Dark brown Give Thanks lettering was added before each flag was sewn to brown trim. Shabby strips of fabric were tied between each pennant and a wheat colored poly burlap flower was hand crafted and sewn to the flag separating the 2 words. Each side ends with a trim loop, making the banner ready for hanging.
I love using poly burlap, especially in fall decor. While it looks like regular burlap, it is made from polyester, not jute. This results in the nice textured, fraying look of burlap but softer and less allergenic. The textured poly burlap combined with the richly colored cottons in pumpkin and rust oranges, caramel, chocolate, and walnut browns, deep turquoise and fuchsia are a stunning result.