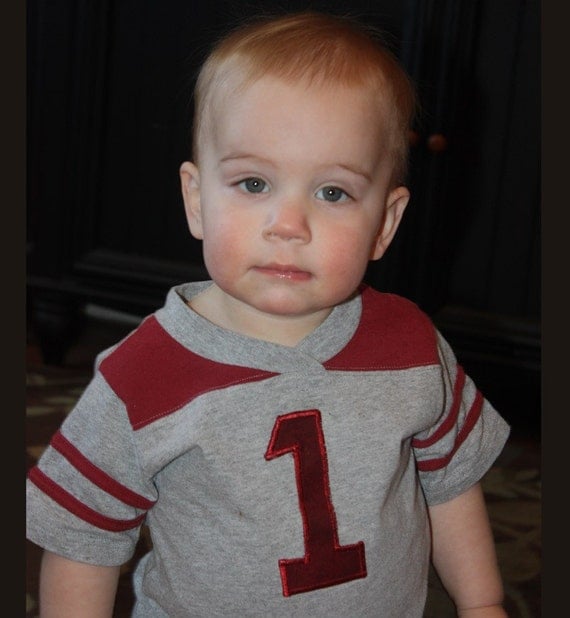 GreatStitch Football Jersey Tshirt 1st or 2nd Birthday Toddler Custom Personalized
By GreatStitch
Product Info
This adorable football GREY jersey t-shirt with a number on the front and a name and number on the back. This shirt is GREY cotton and comes in all sorts of great contrast colors! Sizes 2T,3T,4T. Great for birthday or everyday.
They run a little small so order up not down. This little guy was wearing a 12-18M at the time of this picture in ready to wear on his first birthday. My 2T fit a little big. But nice for a football shirt. Take a minute to check these sizes.....when I say they run small...I have found almost a size small. So if your child is close to an 18M, I would get the 2. If they are wearing a 2, I would get the 3, etc. These shirts are so cute, they are worth all the trouble to me!
The basic toddler shirt is GREY, then it is accented in the following colors for you to choose from...and remember order up not down:
Black,
Navy,
Purple,
Pink,
Red,
Cardinal
Gold,
Orange,
Royal (there are 2 blues...navy and royal)
(Purple, Gold, and Orange have been cancelled by the manufacturer. At this time I still have a few. If you are interested, please convo me to make sure I have these three colors available in the size you want).
Please copy and paste the informationbelow for your order and put it in the note to seller at time of purchase. Any lack of information can delay your order.
Shirt Color
Shirt Size
Name on Shirt
Number on Shirt
Party Date
Phone number for emergency questions only
Here are the approximate measurements for this shirt...grab a ruler and compare it to a shirt your child is currently wearing if you are unsure which size to order. These are made by human beings so there might be some variations. But this is the basic idea for sizing. I am providing this because they do run small.
Size 2
Shoulder to shoulder 9"
Shoulder to hem 13"
Size 3
Shoulder to shoulder 10"
Shoulder to hem 14.5"
Size 4
Shoulder to shoulder 11"
Shoulder to hem 15"
All of these sizes are aproximate, yours may differ ever so slightly because of sewing differentials. If you need exact measurements write me and tell me the color you want and I will pull a shirt and put your name on it and give you exact.
If your child is on the line with these shirts, order up. There are youth sizes available in opposite colors. Like the aduts in these pictures. See the youth size listing for specific colors.
Here are the youth sizes:
Youth Small
Shoulder to shoulder 13.5"
Shoulder to hem 19.5"
Youth Medium
Shoulder to shoulder 14"
Shoulder to hem 22"
Youth Large
Shoudler to shoulder 15.5"
Shoulder to hem 24.5"
I have had requests for entire families to have shirts. I have a shirt that will work for adults, it is pretty close in color. They are $29. They are also special order, one number on front and back included.
My embroidery is from a professional machine. None of the crack and peel transfers here! Pull them straight out of the dryer and smooth out the embroidery and you are good to go. A low iron is ok once in a while but can burn the thread if you get it too hot.
This comes with one name on the back and a single digit number on the front other than the single number and name, please add to this listing with other listings. Just hit keep shopping after you add this to your cart and go back and get the extra color or more numbers, etc. If you want to change anything from the shirt as listed words, or a second number I'm sure you understand it costs me time and money so of course I need to pass that on. I have included very minimal charges for the extras and you can decide if it's worth it to vere from the normal. Most people are happy as is with the shirt with the name on the back and the one number on the front and back. Convo me if you have questions.
Numbers 1-9 available. If you want a two digit number please see add on listing here and hit "keep shopping" after you have purchased this item to get it ($5):
http://www.etsy.com/listing/71753824/greatstitch-add-a-number-on-the-shirt
If you want other words please see this listing ($5):
http://www.etsy.com/listing/79622825/greatstitch-add-words
Other words are subject to trademark search
If you want two colors please see this listing ($2.):
http://www.etsy.com/listing/71754075/greatstitch-add-a-color-to-the-shirt
Please specify the name and number you want on the order in "note to seller" at time of purchase.
I list a lot of my new designs here first, become a fan and you will be one of the first to see it for yourself!
http://www.facebook.com/?ref=home#!/pages/GreatStitchcom/115477218497692
(copy and paste it to your browser)
All shirts are machine washable.Do not hit it with a hot iron, the thread will melt. Smooth it out of the dryer or iron on the wrong side with medium iron.
All my orders will be completed and ready to ship within 10 days, usually faster but I ask for 10 days for these curves life throws at all of us. I try very hard to keep things done up on time. I use priority mail to ship out so they promise 2-3 days and you will have a tracking number so you know exactly where it is. If this is unacceptable there is always overnight shipping for their fee, please contact me first to make sure I have time to complete your order. If something comes up and your order cannot be compteted in a week I will be sure to let you know and give you other options.I cannot promise anything under two weeks if you do nto purchase over night shipping. There are too many variables. You are welcome to take a chance, but that is your decision.
At this time there is NO INFANT alternative to this shirt in infant sizes. I do have a heather grey ONESIE that is similar in color and looks great with the football shirt. It is a super soft t-shirt style onesie, not a lap-shoulder one.It does not have the stripes on it. It comes in 6M, 12M, 18M and 24M. The same number and name combo applies. :)
We are now on facebook! Become a fan and you will be one of the first to see our new designs.
http://www.facebook.com/#!/pages/GreatStitchcom/115477218497692