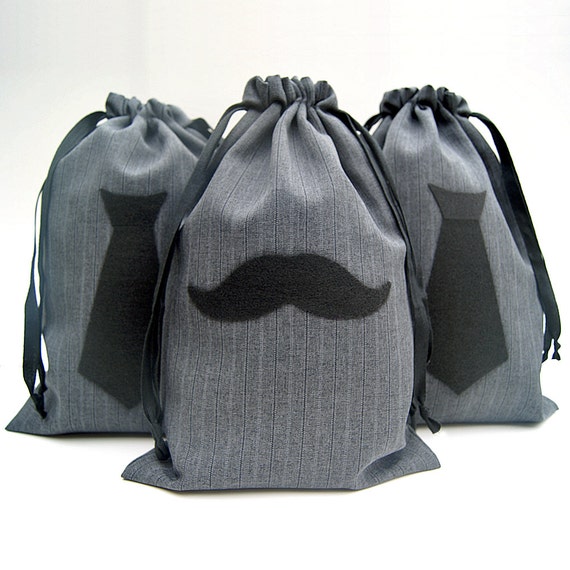 Groomsmen Gift Bag - Mens Gift Bag - Mens Gift Wrap - 8x12 Mustache, Necktie, or Bowtie Pinstripe Gift Bag
By KandyOh
Product Info
8x12 Mustache Groomsman Gift Bag in Gray Pinstripe
Ready to ship in 3 to 5 business days. Choose mustache, necktie, bowtie, or mix 'n' match.
Skip the mess and hassle of wrapping paper and boxes, and instead use this elegant & reusable handmade 8x12 gift bag to hold presents for your groomsmen, ushers, ring bearer, husband, dad, or other special man in your life.
Reuse this high-quality bag year after year for your honey, tuck away special momentos or hold travel items. Designed to fit flask, beer mug, Pilsner glass, or see dimensions below.
Holds items or boxes:
• 8"H x 6"W x 2"D
• 7"H x 5"W x 3"D
• 7"H x 4"W x 4"D
For size comparison, the beer mug shown is 6.5"H x 5"W. Beer mug (16 oz.) not included; prop only.
::: PRODUCT DETAILS :::
• 7.75 inches wide x 12 inches tall (19 cm x 30 cm)
• Menswear dark gray pinstripe or crosshatch fabric with black lining
• Felt mustache, bowtie, or necktie on one side
• Black cotton drawstrings, knotted on ends
• Spot clean
• Not for children 0-3
• Dye lots sometimes vary between fabric bolts, so the color may vary slightly than what is pictured. We ensure all of your bags are cut from the same bolt.
See our shop for a personalized version of this item.
::: SHIPPING INFORMATION :::
• Our gift bags are 100% handmade and ready to ship.
• Ships in 3-5 business days. Once shipped, most items arrive within 2-4 days within the continental US. Please contact us for Priority 2-Day shipping or Priority 3-Day for Hawaii / Alaska.
::: CUSTOMER REVIEWS :::
"Bags are of very high quality and are going to be great for part of the groomsmen gifts. Shipment was fast and communication with the sellers was fantastic. Definitely a great purchase!" - Colby W.
"These are awesome. I was pleasantly surprised with the size! SO CUTE and perfect for groomsmen gifts. Thank you for being so creative!" - Diana F.
"I'm delighted with them. Love them. Outstanding quality." - Janick R.
"The bags are great quality and very creative. I was surprised by the quality of fabric used. Really nice product! A+" - Josh B.
"We bought these bags as gift bags for groomsmen in our wedding party. They were quick to ship, great quality and the overall purchase was amazing. Thanks!" - Casey R.
"Bags are so awesome!!" - Deana M.
"Awesome and so freaking cool. Love these. Thank you!" - Kylee K.