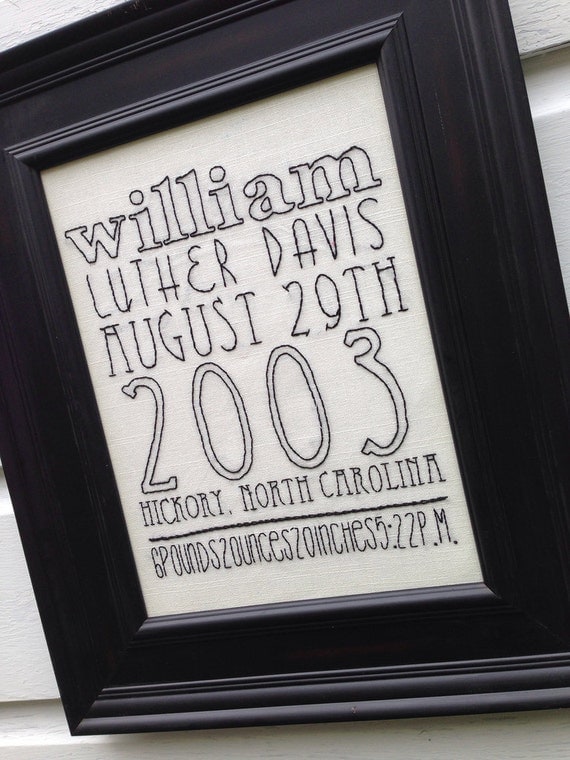 modern typography birth announcement//hand embroidered//subway style//personalized nursery room decor// MADE TO ORDER
By daisyeyes handmade
Product Info
** This embroidery is made to order with a turn around time of 2-3 weeks. **
This is a 100 percent hand embroidered version of the popular subway style birth announcements gracing the walls of pinterest and etsy. This version is hand stitched onto linen-like white fabric with black cotton embroidery and pearl cotton floss. A fun variety of fonts are used along with an line of chain stitches to accent the bottom.
After stitching your embroidery is wrapped onto a 9x12 canvas with your choice of finish:
~ wrapped on a flat 9x12 canvas suitable for framing (fits snuggly into a 9x12 frame)
~ wrapped on a 1" standard 9x12 canvas with black ribbon trim
~ framed in a coordinating black frame
This embroidery is fully customized with all the important information of the special babies birth.
Interested in stitching this yourself?
I offer a custom downloadable option found here: https://www.etsy.com/listing/175979393/modern-typography-hand-embroidery
and also a complete embroidery kit found here: https://www.etsy.com/listing/175967744/modern-typography-hand-embroidery
I also have a variation on this embroidery with animals. You can find that here:
https://www.etsy.com/listing/219139808/birth-announcement-hand-embroidered
Looking for more embroidered art and other goodies? Check out my shop home:
www.daisyeyeshandmade.etsy.com