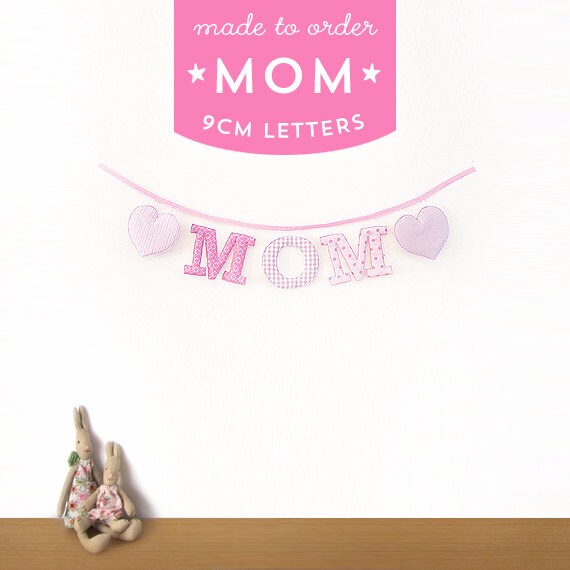 Product Info
MADE TO ORDER
This lovely fabric handmade lettered 'Mom'' is made of mixed shabby chic style cotton fabrics in beautiful patterns. Perfect as a gift (birthday or even Mothers Day) to be used as wall decoration. Why say it with a card when you can say it with a garland that can decorate a wall?
Each letter is padded and is roughly 9.5cm x 10cm (3.7'' x 4") in size.
The ribbon left over on the end of each side of the garland is long enough to tie. The best way to fix to a wall is with blue tac. 
Each garland also comes in it's own beautiful matching fabric pouch tied with a little ribbon.
Garlands cannot be machine washed (spot-clean only).
To order just state in the number of the color palette of your choice and if you'd like the a star or a heart on each end.
Once your order is received I will send you my fabric selection for your color palette. Once you have confirmed the fabrics I will start working on them.
Each garland takes roughly a week to be made and dispatched to your address.
If you wish to send this item as a gift to another address, I'd be happy to ship it directly to wherever you wish. Just include details in the notes section as you check out.
Please visit my Facebook page for news on recent projects
www.facebook.com/loveprettygarlands