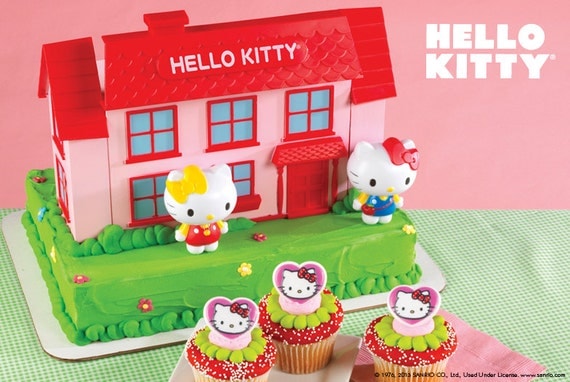 Product Info
One Hello Kitty Step Above Cake Decorating Kit. Create the ultimate Hello Kitty cake with this kit! Includes:
Three-piece Hello Kitty House Facade
Front measures 8.25" W x 7.75" H x 1.75" D
Two Side Pieces measure 3." W x 6.25" H x 1.5" D
One Hello Kitty Figure
One Mimmy Figure
All other decorations are icing.
Uses 1/2 sheet cake to create pictured cake with no waste! Serves 48 - 2" x 2" pieces.
Cake, icing and board not included.
Cupcake Rings sold Separately.
Shipping costs include Priority Mail Shipping.
A Birthday Place has persmission to sell all Licensed Products from their Distributors-Bakery Crafts and DecoPac.